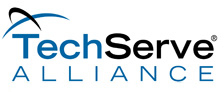 Alexandria, VA – IT employment continued its pattern of month-over-month growth by adding 3500 jobs in December—representing the 13th consecutive monthly increase.
According to a monthly index of IT jobs developed and published by TechServe Alliance, a collaboration of IT services firms, clients, consultants and suppliers, in December, IT employment stood at 3,911,900  jobs; reflecting incremental growth of 0.1 percent. Along with December's positive news were upward revisions of both October's and November's IT employment numbers.
On a year-over-year basis, IT employment was up 2.6 percent, approximately 100,000 jobs, compared to only a 0.9 percent increase in total non-farm employment.
"While still well short of regaining all of the positions that were lost during the downturn, the gain of 100,000 IT jobs in 2010 is most welcome news," commented Mark Roberts, CEO of TechServe Alliance. "Based upon both the government data, our own survey results and anecdotal reports of my member companies, 2011 promises to be a strong year for IT employment," added Roberts.
For complete December 2010 IT Index, please visit: www.techservealliance.org/research/documents/IndexreleaseDecember2010.pdf 
About TechServe Alliance
TechServe Alliance is a collaboration of IT services firms, clients, consultants and suppliers dedicated to advancing excellence and ethics within the IT services industry. Hundreds of IT staffing, IT solutions and IT consulting firms and tens of thousands of affiliated professionals, count on TechServe Alliance to keep their leadership informed, engaged and connected. TechServe Alliance serves as the voice of the industry before the policymakers and the national and trade press. By providing access to the knowledge and best practices of an entire industry and tapping the "collective scale" of hundreds of companies, TechServe Alliance supports its members in the efficient delivery of best-in-class IT services for clients and exceptional professional opportunities for every IT consultant.