Clarksville, TN – On January 14th, 2011, around 4:30pm, an anonymous tip lead Agents from Clarksville Police Department's Major Crimes Unit to the 600 Block of Fairfield Drive.  
When Agents approached the door, they could smell the distinct odor of marijuana coming from the residence. They contacted  the residents inside and shortly thereafter obtained a search warrant.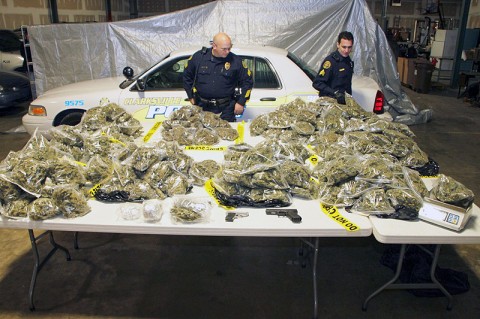 Once inside, the Agents found approximately 250 pounds of marijuana, 5 pounds of hashish, guns, and drug paraphernalia which were seized and turned into evidence. This is Clarksville Police Department's largest drug seizure that anyone can recall. 
The investigation is ongoing and charges are pending. The lead investigator is Agent Steve Hamilton, 931-648-0656 or the TIPSLINE, 931-645-8477. 
Arrests have been made, for the details goto: Arrests made after Marijuana Seizure