APSU Men's Basketball

Morehead, KY – Morehead State limited Austin Peay State University to just 35.1 percent shooting as it captured a 69-56 Ohio Valley Conference win Saturday night in Ellis T. Johnson Arena.
The victory drops the Governors 14-9 overall and 8-3 in the OVC. The Govs remain in first place in the OVC one-half game ahead of Murray State (7-3).  Meanwhile, Morehead State improves to 15-8 overall and 7-4 in the OVC.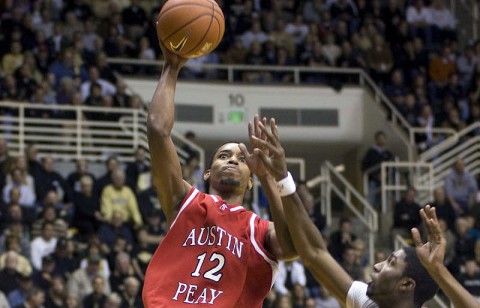 The Governors, who shot 55.9 percent in their home 86-85 victory against the Eagles, could never get untracked offensively against a combination of Morehead State man-to-man and zone defenses, shooting just 20 of 57 from the floor, including 5-of-23 (21.7 percent) from three-point range. 
In fact, a matchup usually highlighted by ties and lead changes saw APSU tie the contest only once, at 2-2. The Eagles controlled the game for much of the night's remainder.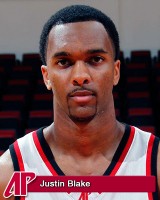 The Govs trailed by as much as 12 points in the opening half and cut it down to four, 30-26, with 36 seconds left in the first half, but Kenneth Faried, who finished with 17 points and 16 rebounds, tipped in an Eagle miss at the buzzer to give Morehead State a 32-26 halftime advantage.
Morehead State immediately pushed the lead out to 10 early in the second half at 44-34 but a John Fraley dunk and consecutive Justin Blake three pointers made it a 44-42 game with 11:20 remaining.
But the Eagles' Terrance Hill responded with a three pointer and then two more Morehead State baskets made it a nine-point game.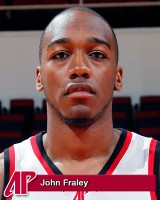 The Govs' Tyrone Caldwell responded with a three pointer to cut it 51-45 8:06 left but Ty Proffitt answered with a three for Morehead State and the Govs were unable to get closer than eight the game's remainder.
Fraley led the Governors with 15 points while Blake added 10. OVC scoring leader TyShwan Edmondson suffered through his season's worst shooting effort, scoring just nine points on 2-of-14 shooting.
Five Eagles scored in double figures, with Hill leading that pack with 14.
Morehead State finished the night shooting 50 percent while holding a 44-25 rebounding edge, including 13 offensive grabs.
Box Scores
Austin Peay vs Morehead State
1/29/11 – 7:45pm at Morehead, KY – Johnson Arena
Austin Peay 56
 
 
 
Total
3-point
 
Rebounds
##
Player
p
fgm-fga
fgm-fga
ftm-fta
off-def
tot
pf
tp
a
to
blk
stl
min

20 

BAKER, Melvin 

f 

4-10 

0-1 

0-0 

1-1 

2 

2 

8 

0 

0 

0 

1 

23 

23 

TERRY, Josh 

f 

1-5 

0-1 

0-0 

0-3 

3 

2 

2 

1 

3 

0 

0 

33 

21 

FRALEY, John 

c 

7-11 

0-0 

1-2 

2-2 

4 

5 

15 

1 

3 

2 

0 

33 

03 

BROWN, Caleb 

g 

0-3 

0-1 

2-2 

1-0 

1 

3 

2 

2 

1 

0 

1 

28 

12 

EDMONDSON, Tyshwan 

g 

2-14 

1-11 

4-6 

1-1 

2 

4 

9 

4 

3 

1 

2 

30 

04 

WILLIAMS, Marcel 

– 

0-0 

0-0 

0-0 

0-1 

1 

2 

0 

0 

0 

0 

0 

5 

05 

CALDWELL, Tyrone 

– 

1-3 

1-3 

0-0 

0-2 

2 

1 

3 

1 

0 

0 

2 

14 

10 

TRIGGS, Will 

– 

2-4 

0-0 

3-6 

3-3 

6 

1 

7 

1 

1 

0 

1 

19 

32 

BLAKE, Justin 

– 

3-7 

3-6 

1-3 

0-0 

0 

0 

10 

1 

0 

0 

0 

15 

TM 

TEAM 

– 

– 

– 

– 

2-2 

4 

– 

– 

– 

– 

– 

– 

– 

 

Totals………….. 

– 

20-57 

5-23 

11-19 

10-15 

25 

20 

56 

11 

11 

3 

7 

200 

 

35.1% 

21.7% 

57.9% 

 
Team summary:
 
FG
3FG
FT
 
1st Half: 
 

9-26 

2-8 

6-9 

 

34.6% 

25.0% 

66.7% 

 
2nd Half: 
 

11-31 

3-15 

5-10 

 

35.5% 

20.0% 

50.0% 
Morehead State 69
 
 
 
Total
3-point
 
Rebounds
##
Player
p
fgm-fga
fgm-fga
ftm-fta
off-def
tot
pf
tp
a
to
blk
stl
min

00 

KELLY, Drew 

f 

5-7 

0-0 

0-0 

4-4 

8 

4 

10 

1 

4 

0 

0 

28 

35 

FARIED, Kenneth 

c 

8-11 

0-0 

1-4 

5-11 

16 

4 

17 

1 

0 

2 

1 

35 

11 

HILL, Terrance 

g 

4-7 

2-4 

4-4 

1-2 

3 

0 

14 

2 

2 

0 

1 

27 

13 

PROFFITT, Ty 

g 

2-6 

1-2 

6-6 

0-2 

2 

1 

11 

2 

1 

0 

1 

32 

22 

HARPER, Demonte 

g 

5-10 

0-1 

1-2 

1-4 

5 

2 

11 

0 

6 

0 

4 

37 

03 

GRAY, Kevin 

– 

0-0 

0-0 

0-0 

0-0 

0 

0 

0 

0 

0 

0 

0 

0+ 

05 

WILLIAMS, Reggie 

– 

0-0 

0-0 

0-0 

0-0 

0 

0 

0 

0 

0 

0 

0 

0+ 

10 

AUSTIN, Lamont 

– 

1-2 

0-1 

2-2 

0-0 

0 

0 

4 

1 

0 

0 

1 

13 

21 

FERGUSON, Dionte 

– 

0-0 

0-0 

0-0 

0-1 

1 

0 

0 

0 

0 

0 

0 

0+ 

23 

McMILLAN, Arthur 

– 

0-0 

0-0 

0-0 

0-0 

0 

0 

0 

0 

0 

0 

0 

0+ 

33 

LASME, Romaric 

– 

0-0 

0-0 

0-0 

0-0 

0 

0 

0 

0 

0 

0 

0 

0+ 

34 

GOODMAN, Sam 

– 

0-7 

0-2 

2-4 

2-4 

6 

2 

2 

2 

1 

0 

1 

28 

TM 

TEAM 

– 

– 

– 

– 

0-3 

3 

– 

– 

– 

2 

– 

– 

– 

 

Totals………….. 

– 

25-50 

3-10 

16-22 

13-31 

44 

13 

69 

9 

16 

2 

9 

200 

 

50.0% 

30.0% 

72.7% 

 
Team summary:
 
FG
3FG
FT
 
1st Half: 
 

13-27 

1-5 

5-8 

 

48.1% 

20.0% 

62.5% 

 
2nd Half: 
 

12-23 

2-5 

11-14 

 

52.2% 

40.0% 

78.6% 
| | | | | |
| --- | --- | --- | --- | --- |
| Score by Periods |  1st   |  2nd   |  Total  |   |
| Austin Peay   | 26  | 30  | 56  | Record: (14-9; 8-3 OVC)  |
| Morehead State   | 32  | 37  | 69  | Record: (15-8; 7-4 OVC)  |

Officials: Scott Johnson, Jason Baker, Rick ShouldersTechnical fouls: Austin Peay-None. Morehead State-GOODMAN, Sam; TEAM.Attendance: 4909AP #21 fouled out at 1:19