APSU Men's Basketball

Bridgeport, CT – Fairfield took advantage of 25 Austin Peay State University turnovers, Saturday afternoon, as it pulled away for a 76-69 victory in Sears BracketBuster action played at Webster Bank Arena at Harbor Yard.
Fairfield, which already has clinched the 2010-11 Metro Atlantic Athletic Conference championship, turned the uncharacteristic Govs miscues into 35 points, more than enough to pull out its 22nd victory against five defeats. Austin Peay, meanwhile, saw its modest two-game winning streak snapped at two games as it fell to 17-12 overall before heading back into Ohio Valley Conference play, 7:30pm, Thursday, at home against Eastern Illinois.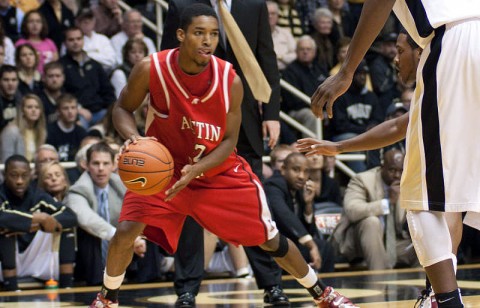 The 25 turnovers were the most by an APSU team since the Governors were charged with 26 against Tennessee Wesleyan, November 27th, 2006. In fact, APSU entered the contest ranked 17th nationally in turnover margin.
It played a key role in the Governors losing a seven-point first-half lead. After TyShwan Edmondson gave APSU an 15-8 lead with 11:44 in the first half, the Governors committed six turnovers over the next five minutes, allowing Fairfield to go on a 15-4 run that permitted the Stags to gain a 23-19 advantage. It also didn't help that Edmondson, who was having his best shooting performance in nearly a month, had to sit down with two personal fouls.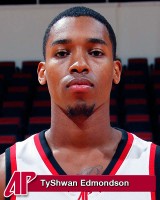 Although Edmondson returned to the game in the first half with those two fouls, the Governors turnover troubles continued. The Govs committed three more turnovers before halftime-for a total of 14-which allowed the Stags to hold a 34-29 halftime advantage.
With the Governors more determined to work inside in the second half, they made a quick charge in the opening three minutes. Two Will Triggs buckets and then Edmondson's three pointer cut the deficit to 37-36.
But four Governors turnovers, including three on consecutive possessions, found the Governors down by double digits, 48-36 after two Keith Matthews free throws for the Stags with 14:39 left.
The Stags lead would reach its largest at 54-41 when Colin Nickerson knocked down a jumper following a 10-second call-APSU was unable to get the ball across midcourt against the Fairfield press.
But the Governors then began clawing back, using their own fullcourt defense to create opportunities. The Govs also would receive a lift from another recent slumping shooter. Justin Blake, who had not hit a three pointer since the first half of the Tennessee Tech game, February 7th, hit two straight. Edmondson accounted for five points in the stretch while reserve point guard Tyrone Caldwell had four, including a layup that closed out APSU's 15-2 run to tie the game at 56 with 8:08 left.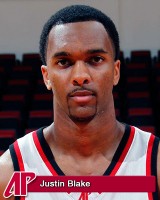 Caldwell had a chance to give the Govs the lead but missed a free throw as did Triggs. Finally, Fairfield regained their footing. Point guard Derek Needham, a Bob Cousy Award nominee, took control. He found Matthews for a layup and then followed with a three pointer plus a driving layup. Edmondson, with a layup, was APSU's only answer in that stretch as the Govs deficit reached five with 5:01 left.
APSU would get no closer than four points down the stretch.
Needham led the Stags with 19 points and five assists while Nickerson came off the bench to score 17 points, grab eight rebounds and harass Governors guards, collecting seven steals.
Edmondson scored 29 points for the Governors, his 13th 20-point-plus outing this season, but his first since January 22nd. He connected on 10-of-18 from the floor, including four long three pointers.
Triggs was APSU's only other double-figure scorer with 12 points. He also grabbed 10 rebounds for his first career double-double.
APSU out-rebounded Fairfield 34-33, but permitted two key offensive rebounds late in the game as the Stags pulled away.