February is Children's Dental Health Month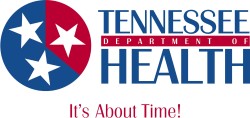 Nashville, TN – Use of training, or "sippy," cups is a milestone as a child transitions from "baby" to "big" girl or boy. Parents often use training cups to help young children learn to drink from a cup instead of a bottle. But improper use of training cups can contribute to tooth decay and injury in young children.
The Department of Health is sharing tips for training cup success and safety as part of the observance of Children's Dental Health Month this February.
"Tooth decay can occur as soon as teeth appear in the mouth of an infant," said Suzanne Hayes, DDS, director of Oral Health Services. "One of the risk factors for early childhood tooth decay is frequent and prolonged exposure of a baby's teeth to liquid that contains sugar, such as fruit juice, milk or formula."
Early childhood caries, or tooth decay, is sometimes called nursing mouth syndrome or baby bottle tooth decay. This type of decay can occur in young children when they are put to bed with a bottle or cup. Infants and toddlers should finish their naptime or bedtime drink before going to bed. Parents are urged to encourage children to drink from a cup by their first birthdays, since decay can destroy the teeth of a young child.
There are many types of training cups available, including "no spill" cups, which are essentially baby bottles in disguise. "No spill" cups include a valve beneath the spout to stop spills. However, cups with valves do not allow a child to sip. Instead, the child gets liquid by sucking on the cup much like a baby bottle. This practice defeats the purpose of using a training cup, as it prevents the child from learning to sip.
For sipping success, carefully choose and use a training cup. Parents and caregivers can encourage children to drink from a cup as the first birthday approaches. During the transition from baby bottle to cup, take care in choosing what goes into the cup and how frequently your child drinks from it. A training cup should be used temporarily; once the child has learned how to sip, the training cup has filled its purpose.
Parents and caregivers are also reminded not to let a child carry a training cup. Toddlers are often unsteady on their feet, and take an unnecessary risk if they try to walk and drink at the same time. A child who falls while drinking from a cup may suffer injury to the mouth. Keep your dental office phone number and the dentist's emergency number handy, and call the dentist immediately for instructions on how to handle a dental emergency.
The American Dental Association recommends that a child's first dental visit should occur within six months of the appearance of the first tooth, and no later than the child's first birthday. If your child has not had a dental examination, schedule a well baby checkup for his or her teeth, and talk to your dentist for more information on how best to care for your young child's teeth.
The Tennessee Department of Health's Oral Health Services program provides services to prevent oral disease and improve education of the public on the value of good oral health. In addition, the program identifies children without access to dental care and works to ensure basic care, as well as care for acute dental conditions. For more information on TDOH Oral Health Services, visit the website at http://health.state.tn.us/oralhealth/index.html.
The American Dental Association sponsors National Children's Dental Health Month each February to raise awareness about the importance of oral health. Find more information online at www.ada.org/2714.aspx.