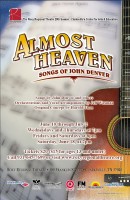 Clarksville, TN – The Roxy Regional Theatre kicked off their run of the musical Almost Heaven. The show pays tribute to the life and music of John Denver. The production uses twenty five iconic John Denver songs that are a cross section of our nation capturing the turbulent times in which he wrote them. The wildly popular songs are juxtaposed with interviews, fan letters, and passages from his autobiography to weave the spell binding story of his life.
Directed by Tom Thayer, the show features Keith Panzarella, Erica Haines Cantrell, Bryan Benware, Kendall Anne Thompson and Ryan Bowie, with David Lovell on guitar, Tom Thayer on piano and Thad Wallus on bass.
This show was outstanding. People of all ages will find it fun to watch. The young will get exposure to not only the music of John Denver, but to the cultural history of America.  While adults will get a chance to re-experience what are quite easily some of the most memorable songs of all time.
The voices of the cast melded smoothly with interweaving harmonies, as the singers were silhouetted against a backdrop of stunning visual images of America in the late 60?s and early 70?s, a time of social unrest and political protest. The costumes and sets were simple blue jeans, flannel shirts, and cowboy hats.
Almost Heaven runs June 10th through July 2nd, playing Wednesdays and Thursdays at 7:00pm and Fridays and Saturdays at 8:00pm, with a 2:00pm matinee on Saturday, June 18th. Tickets are just $20.00 (adults) and $15.00 (ages 13 and under) and may be reserved online at www.roxyregionaltheatre.org, by phone at 931-645-7699, or at the theatre during regular box office hours (9:00am-2:00pm, Monday-Friday).
On June 18th, The Roxy Regional Theatre will be hosting a cookout, and John Denver sing-off featuring the cast of the musical at F&M Bank on Public Square to help raise funds for the Roxy Regional Center for the Arts. The cost is $25 per person.
Photo Gallery
Musical Numbers
ACT I
"All of My Memories" ……………………….………… Company
"For Bobbi" ……………………………..……. Keith, Bryan, Ryan
"Rhymes and Reasons" ……………………………..…… Kendall
"Draft Dodger Rag" …………………..……….…….……… Keith
"Take Me Home, Country Roads" …….. Kendall and Company
"Rhymes and Reasons" (Reprise) ………………….…… Kendall
"Fly Away" …………………………………..……………..…. Erica
"I Guess He'd Rather Be In Colorado" …… Erica, Kendall, Keith
"Rocky Mountain High" …….…………..… Ryan and Company
"Matthew" ……………………………………………….…… Keith
"What Are We Making Weapons For?" ……………. Bryan, Erica
"Calypso" …………………………………… Bryan and Company
ACT II
"Thank God I'm A Country Boy" ………………………….. Keith
"Grandma's Feather Bed" ……………………………… Company
"Love/Leave Medley" …………………………………. Company
"Leaving On A Jet Plane" …………………………………….. Erica
"For You" ………………………………………………….… Bryan
"Looking For Space" (Excerpt) …..……………………….… Keith
"I'm Sorry" …………………………………………………. Kendall
"Sunshine On My Shoulders" ..……….…… Erica and Company
"Looking For Space" ………………………………..……….. Keith
"Wild Montana Skies" …………………..… Erica, Kendall, Keith
"Songs Of…" …………………………………………….. Company
"Poems, Prayers and Promises" ……………………….. Company
"Yellowstone, Coming Home" …………………….….. Company
Encore …………………………………………………… Company
This production is presented with a 10-minute intermission.
About John Denver
John Denver has sold more than 60 million albums around the world since 1972. His 1973 Greatest Hits package racked up sales of over 10 million – an unprecedented achievement for a compilation disc. In the U.S. alone, John Denver had ten #1 hits and multiple RIAA certification awards: 21 Gold album awards, 14 Platinum album awards and seven multi-Platinum album awards. Statistics tell only a small part of John's story, though. He quickly became a global multi-media star, segueing into movies like the hit comedy Oh, God! with George Burns, and into television, where he hosted several musical variety specials, including the Emmy Award-winning An Evening with John Denver. He performed with fellow artists ranging from Frank Sinatra to the Muppets and recorded duets with Emmylou Harris ("Wild Mountain Skies") and Placido Domingo ("Perhaps Love"). He used his celebrity clout to further issues he cared deeply about, especially environmental conservation and world hunger. He encouraged the exploration of space and of our oceans (which inspired the exuberant "Calypso"), and he tried to foster understanding among diverse cultures as the first Western superstar to tour extensively in China and the former Soviet Union. John Denver died tragically in a plane crash on October 12, 1997, at the age of 53.
About the Company
KEITH PANZARELLA is thrilled to be appearing in Almost Heaven: Songs of John Denver. He has previously been seen at the Roxy in The Civil War, Bea(u)tiful in the Extreme and Hamlet (Laertes). New York theatre includes Tess, A New Rock Opera (Angel-PCF best actor NOM), Case of the Blue Oyster Gang (Musician / Suzie), Sweeney Todd (Anthony), and is a member of the Grownup's Playground improv troupe performing out of the New York Comedy Club. He's been seen on screen as Josh in La Mancha Films' feature Weary Sun, and as Walter in Behind it All Films' pilot Let's Shoot Dirty. Keith is a proud graduate of The American Academy of Dramatic Arts. All the love to his family and friends for their continued support.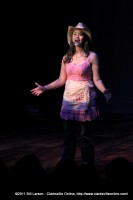 ERICA LEE HAINES is a native of Nashville. After graduating from Belmont University, she performed with the Broadway tour of Ring of Fire and with Royal Caribbean Cruise Lines. For the past several years, she has been teaching for universities, performing troupes, and children's' instruction resources. This is her Roxy debut, but won't be her last, with roles in the upcoming Joseph and Sound of Music. This fall, she will be 'leaving on a jet plane' for a European USO tour with the Zinghoppers! Visit www.EricaLee.org.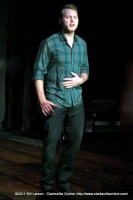 BRYAN BENWARE is very excited to be appearing in Almost Heaven, following his Roxy debut in The Civil War. He has been seen in recent productions of You're a Good Man… as Charlie Brown, CB in Dog Sees God, the Padre in Man of La Mancha, and Ernie in Rumors. A Graduate from Missouri State University, he's very happy to be back in the Midwest and in this beautiful area. Thanks to my family for all their support and love. And to my fiance, Steph, for keeping me out of trouble. Love you!!
KENDALL ANNE THOMPSON is delighted to be returning as a member of the Roxy's company this season, following performances in, most recently, The Civil War, Bea(u)tiful in the Extreme (Sacagawea et al.), Doubt (Sister James), Hamlet (Ophelia), A Christmas Carol (Belle/Mary), Around the World in 80 Days (Aouda), SHOUT! (Green Girl) and Dracula (Vampire Girl). Other credits include: Jerry Springer: the Opera with SpeakEasy Stage Company; RENT (Joanne), Machinal (The Young Woman), The Quick-Change Room (Ludmilla), First Lady Suite (Amelia Earhart) with The Boston Conservatory; Alice in Wonderland (Alice), The Long Christmas Dinner (Lucia), The Man Who Came to Dinner (June Stanley) with James Whitmore and the Peterborough Players. She is a recent graduate of the B.F.A. musical theatre program at The Boston Conservatory. Thank you Roxy Regional Theatre for this wonderful opportunity, and a very special thank you to all friends, family and teachers for their love, prayers and support!
RYAN BOWIE has made Clarksville his home, moving from NYC in January 2011, and is excited to return to the Roxy stage for the 28th season. Most recently seen in The Civil War, Ryan's other past Roxy credits include Bea(u)tiful in the Extreme (William Clark), Hamlet (Barnardo/Rosencrantz), Ain't Misbehavin' (Director/Choreographer), Once Upon A Time, A Christmas Carol, Around the World in 80 Days, Dracula (Jonathan Harker), Into the Woods (The Baker) and Forever Plaid (Jinx). Other professional credits include Jesus in Godspell and Hamilton in the NYC premier of Dotty Dot: A New Children's Musical, Freddy in My Fair Lady (Midwest), Jonas in The Giver (Chicago), Ryan in High School Musical (Midwest), Jack Chesney in Charlie's Aunt (Midwest), Dick in Dames at Sea (Maryland), J. Pierpont Finch in How to Succeed… (New York) and Matt in The Fantasticks (New York – tour). Training: Frostburg State University – BA Theatre: Acting & BA Music: Vocal Performance. Special thanks to his very supportive friends and family. Stay up to date at www.ryanbowie.com.
TOM THAYER has been Managing Director of the Roxy Regional Theatre since its inception in 1983. Training includes Austin Peay State University and Lambuth College, and he is a graduate of the American Musical and Dramatic Academy, NYC. While living in New York, he worked as a public relations liaison for the Metropolitan Museum of Art, created and taught dance programs at the Dwight School and created and taught young dramatics for the Rhodes School. He is the founder of the Clarksville Theatre Guild, as well as the Roxy Regional Theatre, and has performed off-Broadway as well as throughout the South. With Artistic Director John McDonald, he created the Roxy's Professional Company and serves as a director of the Summer Drama Camp, which is sponsored in conjunction with the Clarksville-Montgomery County Parks and Recreation Department.

JOHN McDONALD is the founder and Artistic Director of the Roxy Regional Theatre. A graduate of the American Academy of Dramatic Arts, as an actor John has worked with the New York Shakespeare Festival, Macbeth with James Earl Jones; Long Wharf Theatre, A Lion in Winter with Ralph Waite; and productions of Long Days Journey Into Night (James); Macbeth (Macbeth); Who's Afraid of Virginia Woolf? (George); and numerous others. As an instructor, he has taught theatre at the American Academy, The Rhodes School, The Dwight School, Hewitt, and is the creator of the Roxy Saturday Workshop, an acting program for young performers. Writing and production credits include, among others, Jekyll and Hyde, The Red Badge of Courage, Dorothy Dix: Speaks!, Nora Witzel: A Very Curious Fella, The Picture of Dorian Gray, All Quiet on the Western Front, Poe Unearthed and Headin' South, Goin' North for the Fourth Annual Clarksville Writers Conference.
ADAM KURTZ (Production Stage Manager / Company Manager / Sound Designer) is a native of Detroit, Michigan. He is a graduate of Wayne State University, where he received a BFA in Theatre in Design / Technology, specializing in Stage Management. This is his third season at the Roxy, and he is excited to be back. His previous Roxy credits include A Christmas Carol, CATS, RENT, The 25th Annual Putnam County Spelling Bee, A Streetcar Named Desire, Ring of Fire, Of Mice and Men, Forever Plaid, Into the Woods, Shout, Dracula, Around the World in 80 Days, Ain't Misbehavin', Hamlet and The Civil War, among others.
While here at the Roxy, Adam has also had the opportunity and honor to function as the Sound Designer for numerous productions. He has also been able to function as the Lighting Designer from time to time. He steps into a new area this year as Projection Designer for various upcoming productions. Adam would like to thank Tom and John for this wonderful opportunity and his family (Mom, Dad, Matthew, Lucky the dog, Aunt Nancy & Aunt Karen) for all of their love, support and encouragement.