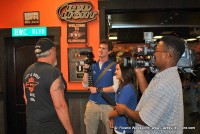 Clarksville, TN – Over the weekend, Tawny Clark and Chris Staudinger visited Clarksville as part of the Rally McNally – USA Today Best of the Road contest. Clarksville had the most votes for the Most Patriotic contest and earned a visit by the judges.
Tawny and Chris spent two days in town on a mission to see if Clarksville will become the Most Patriotic city. They took lots of photos and video to take back to the panel of judges who will actually make the final decision later this month.
The team toured many areas of Clarksville Sunday and Monday to capture everything  Patriotic in Clarksville and on Sunday including a visit to to area restaurants, homes and the Bikers Who Care clubhouse. Here Bikers from several clubs came together to escort Tawny and Chris as the made their way to Fort Campbell to enjoy a BBQ at General Campbell's home. Not even a brief rain shower would dampen their spirits. Afterwards they made their way to the Division Parade Field for the 2011 Fort Campbell Independence Day Celebration.
There is still time to VOTE for Clarksille, TN as the Most Patriotic City Each VOTE will help get one step closer to a win.