Written by Sgt. 1st Class Stephanie Carl
159th Combat Aviation Brigade Public Affairs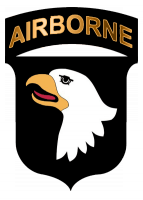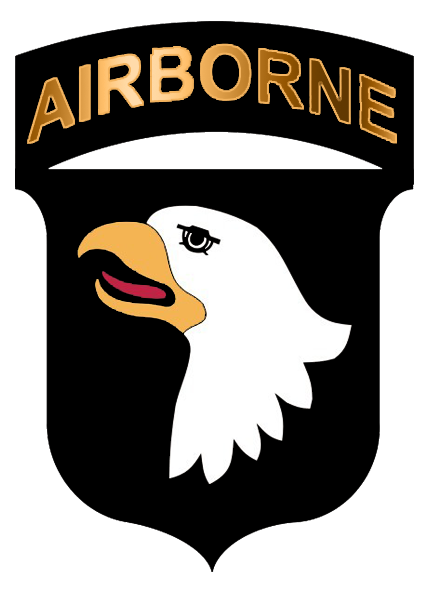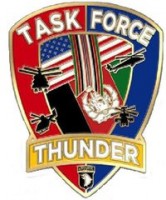 Forward Operating Base Wolverine, Afghanistan – The closest a combat aviation brigade normally gets to artillery is sling-loading a gun from point a to point b. Likewise, the closest artillerymen normally come to aviation is when they call for close air support on the battlefield.
Despite the lack of howitzers, the fire support teams within Task Force Thunder (159th Combat Aviation Brigade) carry an important part of the brigade's mission in Regional Command South.
"We work in conjunction with the [intel section] for targeting and developing effects on the battlefield," said Staff Sgt. Joshua DeWitt, the fire support officer for Task Force Wings (4th Battalion, 101st Aviation Regiment). "We manage and control fixed wing, (intelligence, surveillance and reconnaissance) and indirect fire assets to support the unit."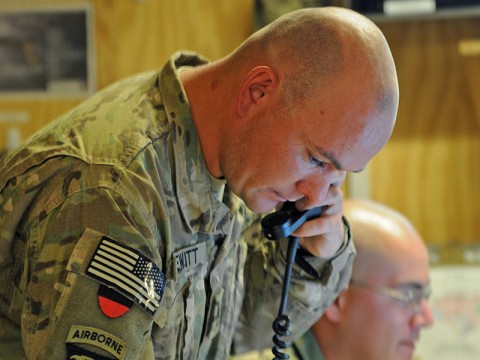 A large part of their job is focused on the Pathfinders – Company F, Task Force Wings, but the fires team is also busy when an aircraft goes down.
"When we have a downed aircraft, we request the support and make sure it gets pushed to the right area," DeWitt said.
Before fires teams were added to CABs in 2005, the unit would have to call a middleman, explained Master Sgt. Terrence D. Reyes, the Task Force Wings operations NCO in charge.
"That took extra time," he said. "Now we don't have to wait for someone else to make the call for us."
It's often during these situations that the mission can get especially complicated for the fires team.
"Probably the hardest part of our job is coordinating the air space when there are multiple birds in the area," said Sgt. David A. Rogers, the Task Force Wings fire support NCO.
Both DeWitt and Rogers have served with ground units previously, where they gained experience calling for fire. Their role in an aviation brigade is significantly different, but both said it's an experience that is making them better-rounded artillerymen.
"The biggest difference is that there's a lot more planning in an aviation unit," Rogers said. "When I was on the ground, I didn't realize how much trouble it is and what people go through to get those birds to us."
Artillery units on the ground often rely on aviation for fire support from AH-64 Apaches, as well as from MEDEVAC units.
"My experience with aviation was calling them up and saying, 'Hey, I need you guys,' and them showing up," DeWitt said. "Now I know what it takes to get one aircraft off the ground. I definitely have a better understanding of the importance of thorough planning and timeliness on our part when we're working missions on the ground if we think we might need air support."
While DeWitt and Rogers have seen both sides of the fight, some of their soldiers are in a different position – they don't know anything but the aviation side of the artillery mission. This presents a different challenge for the NCOs who know their soldiers will probably find themselves in leadership positions with ground units after they leave the aviation brigade.
"We really have to make sure they understand our [job specialty] and what we bring to the fight," DeWitt said.
At FOB Wolverine, the fires team has had the benefit of working with artillery and mortars, which has allowed them to better maintain some of their basic skills.
They've taken turns calling for fire to send out illumination rounds that let the aviators and the ground troops get visibility of suspected enemy activity in hostile areas.
In conjunction with calling for fire, their job also requires them to set up restricted operating zones – essentially no-fly zones that protect coalition forces.
"When there are mortar or artillery rounds being fired we have to set up a ROZ," explained Rogers. "If not, it puts our aircraft at risk."
In addition to helping the pilots maneuver safely around the battlefield, the fires team helps the operations staff within the brigade better fill its support role.
"A lot of times we have a better understanding of what the guys on the ground are asking for when they call for [close-combat attack] support," DeWitt said.
"They're really another great enabler we have to help us accomplish our mission," Reyes said.