Clarksville, TN – On September 3rd, 2011, 4:04am, officers responded to a fight in progress call at a club on 801 Providence Boulevard. When officers Rodney Lockerman and Joshua Swaffer arrived they saw muzzle blast from gunfire and heard shots being fired.
Officers saw men running toward the wood line near a business at 711 Providence Boulevard. They found a 24 year old man that had been shot multiple times in the legs. The man was incoherent, bleeding, and severely injured.
Officers Jeff Denault and Mark Wilson administered first aid until medics arrived. The victim was transported to a hospital and is in stable.
Around 5:27am, while the crime scene was being processed, another call came in at a Thompkins Lane address about a man who was laying in the front yard bleeding. Officers arrived and found that Dashawn Kelly, 21, had sustained a gunshot wound to the calve area.
Based on previous witness information, it was believed that Kelly was involved in the shooting victim on Providence Boulevard. The nature of Kelly's gunshot wound has yet to be determined. He was treated at the hospital, released, and transported down town to be interviewed.
The investigation by Detective Mike Ulrey revealed, prior to the shooting, Dashawn Kelly had been in a physical altercation with the victim inside of the club on 801 Providence Boulevard. Kelly was seen with a gun in his hand chasing the victim across the parking lot. Shortly after that, several shots were fired in the same area where Kelly was seen running.
Dashawn Kelley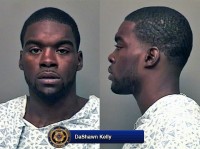 Name: DaShawn Menquez Kelly (B/M)
DOB: 1-24-90
Given address: Thompkins Lane, Clarksville, TN
Arresting Officer: Michael Ulrey
Booked Into: Montgomery County Jail
Charged With: Aggravated Assault
Bond: $200,000.
Kelly has an extensive criminal history involving drugs and violations of probation.
The investigation is ongoing. Detective Mike Ulrey is the lead investigator. Anyone with information, please call the TIPSLINE, 931.645.8477.