Topic: Mark Wilson
APSU Sports Information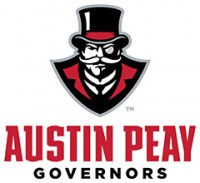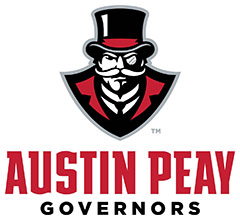 Clarksville, TN – For the fourth consecutive semester, more than half of Austin Peay State University's athletes received academic recognition following the recently concluded spring semester.
The department saw 180 athletes named to the Athletics Director's Honor Roll, each earning a minimum 3.0 grade-point average during the semester. That amounted to more than 53 percent of the department's near-record 335 athletes earning academic recognition from the department.
It is the fourth consecutive semester the department has seen more than 50 percent of its athletes post a 3.0 or better GPA.
«Read the rest of this article»

Clarksville, TN – The Clarksville Police Department's newest Police Service Dogs, Koda and Leo were presented with their own personalized badges. The idea for the badges was the brain-child of Captain Craig Gipson, Special Operations Commander.
Officer Kendrick Harris is the handler for KODA and Officer Mark Wilson is the handler for LEO.
«Read the rest of this article»

Clarksville, TN – On September 8th, 2012, around 10:30pm, Clarksville Police were called to an Aggravated Assault which occurred outside of a business at the 600 Block of North Riverside Drive.
A 15 year old heard the sounds of a fight outside of the business and went over to see what was happening. As he walked toward the area of the fight, he was approached by Michael Joel Powers and told to leave.
«Read the rest of this article»

Clarksville, TN – On November 18th, 2011, Officers Jeff Danault, Mark Wilson, and Nathan Lee were presented with The Lifesaving Award at a ceremony held at Police Headquarters. The Lifesaving Award is given to officers whose actions saved or extended the life of another person.
The Lifesaving Award was presented to the officers for their actions on September 3rd, 2011 when they responded to a shots fired call at 801 Providence Boulevard and found a man that had been hit by gunfire. He was bleeding from both legs due to gunshot wounds; the left leg was bleeding severely.
«Read the rest of this article»

Clarksville, TN – On September 3rd, 2011, 4:04am, officers responded to a fight in progress call at a club on 801 Providence Boulevard. When officers Rodney Lockerman and Joshua Swaffer arrived they saw muzzle blast from gunfire and heard shots being fired.
Officers saw men running toward the wood line near a business at 711 Providence Boulevard. They found a 24 year old man that had been shot multiple times in the legs. The man was incoherent, bleeding, and severely injured.
Officers Jeff Denault and Mark Wilson administered first aid until medics arrived. The victim was transported to a hospital and is in stable.
«Read the rest of this article»

Clarksville, TN – On January 1st, 2011, around 2:30am, Michael Arthur, 29, of Clarksville was driving a 2000 Buick Century west on College Street when a pedestrian, Henry Dudley, 63, of Clarksville walked in front of his vehicle in the area of Ninth and College. Arthur had a green light at the intersection and did not see the pedestrian crossing in front of his vehicle.
«Read the rest of this article»