APSU Sports: Women's Soccer

Mobile, AL – After seeing its offensive production slowed during the homestand, Austin Peay State University women's soccer team opened the Port City Classic with a 2-1 win against Troy, Friday afternoon, in Mobile, AL.
The Lady Govs (5-1), who had 12 shots combined against Western Kentucky and Belmont, outshot the Trojans 18-11 en route to victory against the team that handed APSU its first loss during the 2010 campaign. Sophomore Tatiana Ariza led Austin Peay with five shots, all on goal, while junior Emily Perkins and sophomore Morgan Zigelsky each had three shots.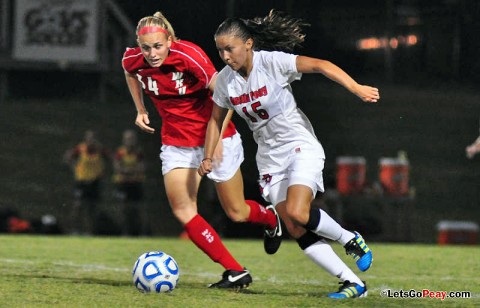 "Troy is a good team and very controlled with the ball," head coach Kelley Guth said. "They play possession soccer. It came down to us creating opportunities. The game shifted momentum several times, but I thought we played well. This is an exciting win for us after what happened against Troy last year."
Troy (3-3) attempted to go the physical route with Austin Peay, but the Lady Govs continued to display a resilient attitude. Tatiana Ariza scored the game's first goal – her season's 10th – in the 23rd minute to give APSU a 1-0 lead. Zigelsky set it up with a touch pass left of the 15-yard box and Ariza finished with an upper-90 goal.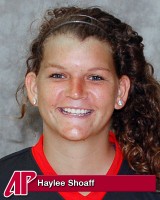 Austin Peay's defense held strong with sophomore keeper Haylee Shoaff making a big stop off a Trojan corner in the 37th minute, leaving the Lady Govs with a 1-0 halftime lead.
The second half opened with APSU firing a barrage of shots, packing the Trojans into the box early. Troy finally broke free in transition, but sophomore Andy Quiceno came up with the ball in midfield. Quiceno sparked the counter attack with a lead ball to Perkins, putting the target forward in a one-on-one with the Troy keeper. Perkins scored to make it 2-0, APSU, in the 57th minute.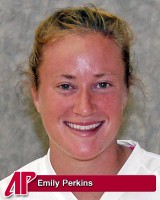 "This was the most consistent we played all season," Guth said. "Perkins did a great job today being our target. She held the ball well and helped us maintain tempo. She's really stepped up the past few games in doing those things. Emily has good speed and that makes her dangerous."
The two-goal lead would stand until Troy scored off a failed clear by the Lady Govs defense. Ruth Sutcliffe found the back of the net, setting the final 2-1 margin.
Perkins, who scored the gamewinner, was named the Copies in a Flash Player of the Game.