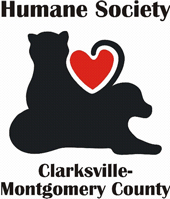 Clarksville, TN – The Humane Society of Clarksville-Montgomery County has been named as one of several charities to benefit from this weekend's Operation Serve effort.
This coming Saturday, September 24th from 9:00am-2:00pm, approximately 25 volunteers from Grace Community Church will gather at the Humane Society building to help them with various projects that they would otherwise not have the funds or manpower to complete themselves.
The Humane Society is thankful to be "adopted" by the church for a second year in a row.
This year, church volunteers wanted to help thems raise a little money as well, so they organized a Car Wash on their behalf. Just pull in to the Arby's Restaurant parking lot on Riverside Drive between 9:00am-2:00pm and pull out with a clean car and an exclusive Car Wash Guarantee:
"We guarantee that giving a well-earned donation in exchange for a clean car would be lots cheaper than a ticket received if your dog is caught driving your car!"
Needed
The Humane Society of Clarksville-Montgomery County is seeking donations of bottled water, sodas and foam paint brushes (all sizes will do). Items can be dropped off anytime during office hours: Tueday/Friday/Saturday from 9:00am-2:00pm or Wednesday/Thursday from 4:30pm-7:30pm.