Public Square will be Closed Off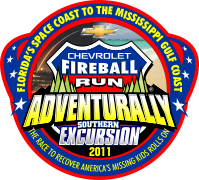 Clarksville, TN – On Thursday, September 29th and Friday, September 30th, the Fireball Run Adventurally will be in Clarksville, TN as part of their 2,500 mile race and scavenger hunt.
Everyone in the community is encouraged to come out to Public Square, Downtown Clarksville, on Thursday around 4:00pm and on Friday at 9:00am to see the cars and meet the participants. This is a great opportunity to bring the whole family out to see cars that range from custom Camaros to vintage classics. The more community support we have, the more air time we can have in the official Fireball Run Movie!
During the Fireball Run's stay in Clarksville, Public Square will be blocked off from 10:00am–9:00pm on Thursday and then 8:00am–10:00am on Friday. The teams will have a police escort out of town on Friday, leaving Public Square and taking a route along Madison Street down to exit 11.
Watch the teams as they make their way to town; the race will be streaming live on www.fireballrun.com and you can also follow along with the drivers by watching their GPS tracking.
For more on the story, see: Additional information made available about the 2011 Fireball Run