APSU Sports Information: APSU Golf

Edwardsville, IL – Austin Peay State University women's golf team shaved 13 strokes off its first-round score to finish second, Tuesday, in the SIUE Intercollegiate, presented by Double Tree.
Led by junior Lauren Bond, the Lady Govs fired a final-round 325 to end at 663 on the Sunset Hills Country Club course. APSU actually tied with host Southern Illinois University Edwardsville for second but earned the second position because of a higher fifth-position score. Southern Illinois Carbondale won the event with a 632.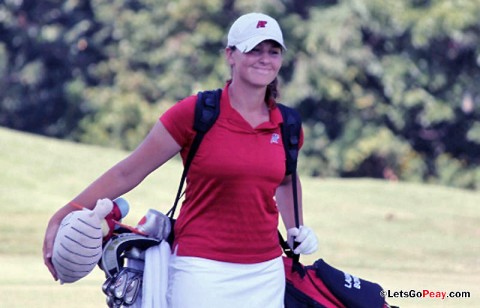 "The course actually played longer and harder today," APSU coach Sara Robson said. "The wind picked up and it was going in different directions so things were much more difficult.
"We played better today. We swung the club better. We still have work to do on the greens—we had way too many putts. We just have to keep working at it."
Bond shot a final-round 79 to finish at 162, placing her fifth overall for her second Top 10 finish in the last two tournaments. The Marion, IL, native now has shot below 80 in all but one of her Division I rounds since joining APSU this fall from John A. Logan Junior College.
Bond got plenty of help from redshirt sophomore Tabitha Beard, who bounced back from Monday's 87, to shoot an 80, Tuesday, while freshman Marta Gutierrez had an 81 after shooting 87, Monday.
Meanwhile, sophomore Rachel Deaton, who shot 81, Monday, had an 85, Tuesday, to finish at 166 and an eighth-place tie. Junior Holly Batey matched Deaton, Tuesday, with an 85 to finish at 175—her 175 being three strokes better than SIUE's fifth player.
"Lauren really played well today, but she lost some shots on the green," Robson said. "Rachel played well but had three bad holes late. I was really proud with the way both Tabitha and Marta bounced back today. Holly was better today, but she still struggled."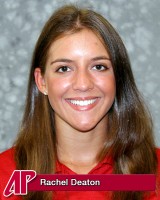 Eastern Illinois finished fourth in the tourney with a 672, followed by Northern Illinois (676), Nebraska-Omaha (679), South Dakota (691) and Evansville (710). Missouri Baptist played but didn't have enough players to qualify for scoring.
The Lady Govs now will turn their focus to their own tourney, The F&M APSU Intercollegiate, scheduled for October 10th-11th at The Links at Novadell.
"We will have week and a half to regroup and work on some things," Robson said. "We will be playing a completely different course (links-style) than we have been playing."