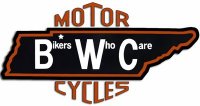 Clarksville, TN – On Saturday, November 5th from 9:00am – 12:00pm there will be a Yard Sale to support the Children of the BWC 5 at FMAC located at 602 South Riverside Drive. The BWC 5 refers to the 5 members of the Bikers Who Care who died in a tragic accident after this year's Bikers Who Care Toy Run.
If you would like to donate any items for the sale contact Michelle Greenfield  at 931.237.7559 or Traci Austin 931.216.4738. They will make arrangements to pick up and store your donations until time for the sale
Please remember this is for the kids
About Penny Russell
Hi I am Penny Russell. I was born and raised in Clarksville,Tn. I go to college at Daymar and majoring in Paralegal degree and then after college going to law school. My goal is to help the Youth in Clarksville. I am Christian and Go to Bethel Baptist church in Cunningham,Tn. I have been married for 11 years to a great man and we have 2 great kids. I love to write about the great things people do in their community and helping others.
Sections
Events
Topics
Bikers who Care, BWC 5, FMAC, Michelle Greenfield, Riverside Drive, Traci Austin, Yard Sale