Tips from the public and good old fashioned Police work were instrumental in taking a robber into custody.

Clarksville, TN – Detective Eric Ewing and fellow officers relentlessly followed leads received after the robbery story and suspect's photos were published through media channels. He worked until late yesterday evening checking out possible locations, gathering additional information linking the suspect to other crimes, and trying to determine the identity of the suspect.
Around 11:00pm last night, Officer David Johnson spotted a vehicle with extensive damage, meeting the description of the robber's vehicle. He followed the vehicle to a parking lot behind the Speakeasy, 1991 Fort Campbell.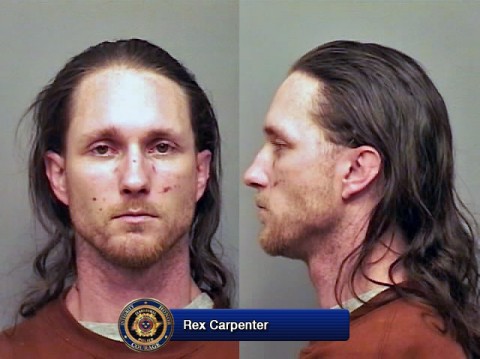 The man inside of the vehicle met the description of the robbery suspect and Detective Ewing was called to the scene. During the interview with the suspect, Rex Allen Carpenter, admitted to entering the liquor store with the intent to steal alcohol and hitting the store owner on the head with a crowbar.
There was also drug paraphernalia (straight-shooter pipe) found in Carpenter's vehicle.
Rex Carpenter
Name: Rex Allen Carpenter (W/M)
DOB: 9/16/82
Given Address: Homeless
Arresting Officer: Eric Ewing
Charged With: Aggravated Robbery and Drug Paraphernalia
Booked Into: Montgomery County Jail
Booking Time: Around 5:45am.
Bond: $25,250.
---
The investigation is ongoing and more charges may be filed.
We would like to thank all of you for your assistance.
For more information see Clarksville Police Request Additional Assistance to locate Burglary Suspect
Sections
News
Topics
Clarksville Police Department, Crime, Drug Paraphernalia, Rex Allen Carpenter, robbery