Clarksville, TN – We are already well into that time of year when deer crashes are on the rise in our area.  The fact that hunting season has opened will also likely cause crashes to increase even more.  From Jan 1st – Oct 31st, 2011, we had 110 deer related crashes. During the same time frame in 2010, there were 75 deer related crashes.  In the entirety of 2010, there were 139 deer related crashed.
October through December are peak periods for deer and vehicle accidents.
According to State Farm Insurance, November is the heart of the deer migration and mating season, and is the month during which deer-vehicle encounters are most likely. More than 18 percent of all such mishaps take place during the 30 days of November.
Deer-vehicle collisions are three times more likely to occur on a day in November than they are on any day between February 1st and August 31st. October is the second most likely month for a crash involving a deer and a vehicle. December is third.
The average property damage cost of these incidents during the final half of 2010 and the first half of 2011 was $3,171, up 2.2 percent from the year before.
Tips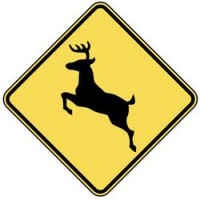 The Clarksville Police Department offers the following hints to avoid collisions with deer:
Stay aware, awake, and be alert at all times.
Pay attention to deer warning signs – drive with caution.
Higher risk periods are from sunset to midnight and then shortly before and after sunrise
When there is no oncoming traffic, use high beams; it will help illuminate the deer's eyes closer to the roadway.   It will allow you more time to react.
If you see a deer on the road, dim your headlights, since it may make startle the deer and they will freeze in position rather than move.
Wear seatbelts.  They are your best defense in a collision.
If a crash is inevitable, stay in your lane and don't swerve, brake firmly, hold onto the steering wheel, and bring the vehicle to a controlled stop.  Do not touch or go near the injured animal.
If you swerve to avoid a collision, try to maintain control of your vehicle.  You could easily end up in oncoming lane of traffic or a ditch.  Also if you make a sudden stop, it may result in another vehicle colliding with you.
The higher the speed of the roadway, the longer it will take you react.  So be especially aware on the interstate.
If there is one deer, there are usually more to follow.  Be prepared for multiple deer to cross in front of your vehicle.
Motorcyclists need to be especially vigilant for deer and should reduce speed to allow for more reaction time.  Wear protective gear.  If riding in a group spread out so if one rider hits a deer, they will reduce the chances of taking out other riders.