Clarksville, TN – A Hopkinsville, KY man who, in 2009, was charged in Clarksville for Indecent Exposure has been caught again.
On November 16th, 2011, around 8:00pm, 911 received a call about a man, saw on surveillance video, inside of a business on Wilma Rudolph Boulevard watching a young female and touching himself. The man then walked out of the business got into a vehicle, drove away, returned to the business, went to the kids department watching boys, and touching himself.
When Officer Dennis Honholt arrived, store security pointed to the area where the suspect, later identified as Gregorio Gonzolez Jr, was located and detained. When the store video was reviewed, Gonzales was seen following the children, hiding in the clothing areas and touching himself.
In the meantime, it was discovered that Gonzalez also had a Capias warrant for Indecent Exposure from 2009.
Gregorio Gonzalez Jr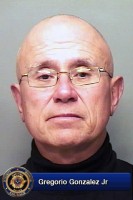 Name: Gregorio Gonzalez Jr (W/M)
DOB: 8/20/53
Given Address: 4870 Madisonville Road, Hopkinsville, KY
Arresting Officer: Dennis Honholt
Charged With: Indecent Exposure and had the Indecent Exposure Capias served when he was booked in.
Booked Into: Montgomery County Jail
Bond: $20,000.
More Information
Additionally, when Gonzalez was taken before Judge Grimes this morning, his bond on the new charge was raised to $50,000. The bond total now for both charges is: $60,000.
Gonzales is on the Sex Offender registry out of Kentucky. He drives a 1995 Pontiac Sunfire, Red, KY Tag, 862 CDZ, with front end damage.
Clarksville Police have spoken to Investigator Morlock, MCSO, whose been trying to work through legislative channels to try to increase penalties for violators committing offenses that are already on the sex offender registry from a Misdemeanor to a Felony.
Here is the Tennessee statute that covers Public Indecency—Indecent Exposure.
Indecent exposure for the most part is a Misdemeanor which means an offender would normally be cited and released.