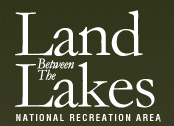 Golden Pond, KY – Land Between The Lakes (LBL) National Recreation Area recently hosted a Passport in Time (PIT) project October 24th-29th. The LBL PIT project focused on excavating an historic site, the former location of the Golden Pond Independent School and John and Mamie Turner homesite along US68/KY80.
Nine volunteers from across the United Sates participated in the PIT project, a volunteer archaeology and historic preservation program of the USDA Forest Service.
Volunteers work with professional Forest Service archaeologists and historians on national forests throughout the U.S. They help complete archaeological surveys and excavations, rock art restoration, archival research, historic structure restoration, and oral history projects.
Not all of the volunteers came from far away; Mimi and Allen Scott of Dover, TN have volunteered all across the U.S., so they were happy to contribute to a local project.  "It was nice to be able to do a PIT project in our backyard," said Mimi. "We are very grateful to all of our volunteers, we really wanted to complete this PIT project since it is along the route of the new US68/KY80 bike-and-hike trail," said LBL Heritage Program Manager, Jamie Bennett. "Excavating this area will help us learn more about local history and provide visitors with that information."
The goal of PIT is to preserve the nation's past with the help of the public. To learn more about PIT visit http://www.passportintime.com/.
About Land Between the Lakes
Come Outside and Play at Land Between The Lakes National Recreation Area, managed by the Forest Service, U.S. Department of Agriculture, in partnership with "Friends of LBL," to provide public lands outdoor recreation and environmental education.  We encourage visitors to review LBL's official website at www.lbl.org each season, and throughout the season, for our Calendar of Events, updates on programs and policies, safety information, maps, and temporary trail and road closures.
Follow us on Twitter @LBLScreechOwl and on our blog at http://landbetweenthelakes.blogspot.com/. Additional LBL and "Friends of LBL" information is available on our website or by calling 1.800.LBL.7077 or 270.924.2000.