Clarksville, TN – You may have noticed more cars being pulled over by Clarksville police lately.  In fact, one of those cars may have been you.
According to Clarksville Police Chief Al Ainsley, his department is "stepping up" it's enforcement of all traffic violations, in hopes that area motorists will help them in keeping our streets safer.
In an exclusive interview on 1400WJZM this weekend, chief Ainsley said his department "will not tolerate" motorists who are not paying attention to what they're doing.
With the first fatality of the year occurring on Friday, Ainsley said his department will "step up" our enforcement of all traffic laws and he's encouraging everyone to "drive safe."
Speaking on "Clarksville in Review" Saturday morning, Ainsley says he and his command staff have regular weekly "Comstat" meetings  to identify areas of our community that are "trending" a certain way with crime, or traffic problems.  Chief Ainsley and his commanders then put a plan in place to address those areas, and focus on the issue at hand.  Ironically, Ainsley said, Madison Street was identified in last weeks meeting as an area that needed "stepped up" enforcement.  Something the chief says will happen this week.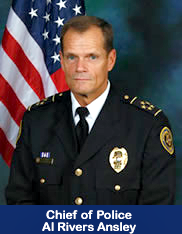 "We obviously can't be everywhere, all the time, so we move our resources to areas that are showing an increase in certain crimes, or traffic patterns, and focus on that area to get the public's attention" said Ainsley.
When asked if his officers would take the time to stop everybody, with so many drivers texting, and not paying attention.    Ainsley was adamant in his response.  "I guarantee you, we will pull you over.  We will not tolerate speeding, seat belt violations, erratic driving, failure to yield, distracted driving or any other offense.  We will stop you."
Ainsley said his department makes it well known when they plan increased traffic enforcement.  This week, Madison street will get a lot of attention, something the chief said was planned, and not a reaction to the recent fatality.
"We tell you (wjzm), the newspapers, all the media, that we will be out there, and we will not tolerate bad drivers.  The Clarksville Police Department is committed to the safety and well being of all citizens, and traffic issues are the number one complaint our department receives.  We will be out there, and we will pull you over if you are in violation" according to Ainsley.
With an ever growing traffic problem in Clarksville, the job of the Clarksville Police Department continues to be a challenge.  Ainsley is hopeful that his department can have an impact on safety, by having an increased "presence" in areas that are of concern.  The best solution to the problem is to have more responsible drivers, paying attention to what they're doing.
Don't say you haven't been warned.