Clarksville High will face Memphis Central in a Tournament Semifinal game Friday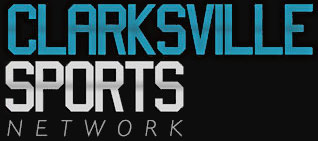 Murfreesboro, TN – All that matters at the end of the game is that you have more points than the other team, there's no value for how aesthetic a victory is.
And that was the case for Clarksville High School in its 53-47 victory over Cherokee High School  in a quarterfinal game of the Boys Class AAA State Tournament in the Murphy Center at Middle Tennessee State University. The Wildcats got the win, but it wasn't pretty.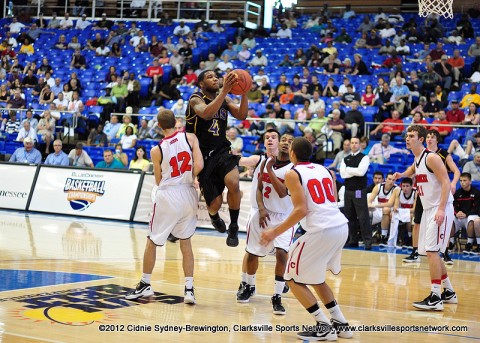 "We came into the game knowing what we had to do on defense," Clarksville High guard Daijon Williams said. "We knew they were a good 3-point shooting team and we just tried to stay out there and not let them good too many good looks. We just needed to stay calm at the free throw line and focus. We made enough, but we got to make sure we stay more focused the next game."
With it the Wildcats (26-11 ) move on to Friday's 1:30pm semifinal game, where they will play Memphis Central, a 67-54 winner over Ooltewah in another quarterfinal game.
If Clarksville High wins that one, it would play in the championship game on Saturday at 4:00pm.
Clarksville High had been knocked out in the first round the last two times in made it to state, last year and in 2008. This is the farthest the Wildcats have advanced since losing in two overtimes to Maryville in the 2007 Class AAA Championship game.
And Cherokee (26-9) didn't make it easy for Clarksville High, the Chiefs cut a 33-20 deficit at the start of the fourth quarter down to 48-44 with 1:06 left in the game.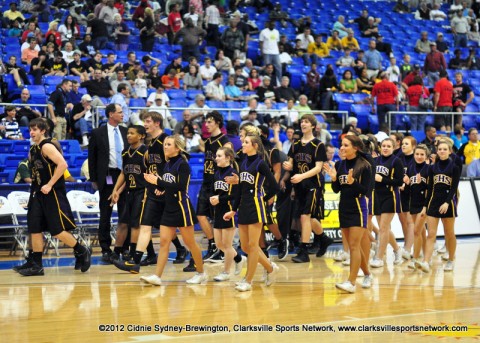 A lot of that was because Clarksville High only went 15-of-36 from the free throw line and just 2-of-13 from the 3-point line. But the Wildcats helped their cause by outrebounding Cherokee 41-28, by hitting 42.9 percent from the floor compared to the Chiefs making just 33.3 percent and simply by making enough free throws when they counted. They also held Cherokee to making just 3-of-20 from the 3-point line.
"I try never to be upset at missed free throws," Clarksville High coach Ted Young said. "I'm just glad the kid was able to get to the line for the two shots, because that's their moment. But between now and when we play again we've got to improve our free throw shooting, because we probably could have put them away in the first half, but we missed seven free throws and a few of those were one-and-ones. So we could have gone in at half up 10 or 11 at the half and really made them stretch their defense. But we allowed them to keep it close."
The three most important freebies made were the two Eric Holmes sank with 24.6 seconds left in the game and the one Chase Knott made with 2.2 seconds left that made it the final.
Those came after Cherokee's Ty Ryans cut the lead to 50-47 with a trey with 34.3 seconds to play.
It didn't look like Cherokee was even going to make a game out of it after Clarksville High outscored the Chiefs 14-4 in the third quarter and took a 31-20 lead at the end of it.
Drake Young then scored with 7:19 left in the game to make it 33-20 and the next thing you know Cherokee outscores Clarksville High 24-15 to cut it to 48-44 on two free throws by Forrest Looney with 1:06 left in the game.
And after Knott put Clarksville High up 50-44 with a bucket with 58.5 seconds left, Ryans answered with the 3 that cut it to 50-47 Wildcats. But when they needed the free throws to go down Holmes made his two and Knott sank his one to seal Clarksville High's win.
Clarksville High was led by Anthony Hightower's 16 points and Young's 11. Cherokee was led by Ryans' 14.
Box Score
Clarksville High 53, Cherokee 47
Official Basketball Box Score
Clarksville vs Cherokee
03/14/12 5:00pm at Murphy Center, Murfreesboro, TN.


Officials: Cory Massey, Danny McCoin, Greg Gonda
Technical fouls: Clarksville-None. Cherokee-None.
Attendance:
Score by Periods                1st  2nd  3rd  4th   Total
Clarksville...................    8    9   14   22  -   53
Cherokee......................    7    9    4   27  -   47
 ------------------------------------------------------------------------------
VISITORS: Clarksville 26-11
                          TOT-FG  3-PT         REBOUNDS
## Player Name            FG-FGA FG-FGA FT-FTA OF DE TOT PF  TP  A TO BLK S MIN
03 Williams, Daijon.... *  2-8    0-5    5-8    2  3  5   4   9  8  5  0  2  30
04 Holmes, Eric........ *  2-5    0-0    3-9    6  7 13   2   7  1  3  1  0  32
05 Knott, Chase........ *  3-9    0-3    1-4    1  3  4   3   7  2  2  0  0  32
14 Young Drake......... *  3-4    2-3    3-7    1  4  5   4  11  0  2  0  2  32
15 Hightower, Anthony.. *  7-12   0-1    2-7    2  8 10   5  16  0  1  0  2  27
02 Webb, Jeff..........    0-1    0-1    0-0    0  0  0   0   0  0  0  0  0  0+
30 Majors, Tevin.......    1-3    0-0    1-1    2  0  2   0   3  0  1  0  0   7
   TEAM................                         1  1  2
   Totals..............   18-42   2-13  15-36  15 26 41  18  53 11 14  1  6 160

TOTAL FG% 1st Half:  6-16 37.5%   2nd Half: 12-26 46.2%   Game: 42.9%  DEADB
3-Pt. FG% 1st Half:  1-6  16.7%   2nd Half:  1-7  14.3%   Game: 15.4%   REBS
F Throw % 1st Half:  4-11 36.4%   2nd Half: 11-25 44.0%   Game: 41.7%   10














HOME TEAM: Cherokee 26-9
                          TOT-FG  3-PT         REBOUNDS
## Player Name            FG-FGA FG-FGA FT-FTA OF DE TOT PF  TP  A TO BLK S MIN
02 Scales, James....... *  1-7    0-4    3-4    0  3  3   5   5  0  0  0  0  25
05 Trent, Tanner....... *  2-6    0-2    3-3    1  1  2   3   7  4  2  0  2  31
11 Ryans, Ty........... *  6-20   2-10   0-1    2  5  7   4  14  2  1  0  3  29
22 Elkins, Zach........ *  1-5    1-4    0-0    1  1  2   4   3  0  2  0  1  14
23 Hagood, Ethan....... *  2-3    0-0    0-0    2  1  3   2   4  0  2  0  1  27
00 Looney, Forrest.....    2-5    0-0    3-3    0  7  7   3   7  1  4  0  0  16
12 Lawson, Zach........    2-2    0-0    3-3    0  0  0   5   7  0  0  0  1  17
15 Ringley, Tyler......    0-0    0-0    0-0    0  1  1   2   0  0  0  0  0   1
   TEAM................                         2  1  3
   Totals..............   16-48   3-20  12-14   8 20 28  28  47  7 11  0  8 160

TOTAL FG% 1st Half:  5-16 31.3%   2nd Half: 11-32 34.4%   Game: 33.3%  DEADB
3-Pt. FG% 1st Half:  1-8  12.5%   2nd Half:  2-12 16.7%   Game: 15.0%   REBS
F Throw % 1st Half:  5-6  83.3%   2nd Half:  7-8  87.5%   Game: 85.7%    0