Nashville, TN – The Tennessee Bureau of Investigation has charged a Clarksville, Tennessee man with one count of criminal homicide after a shooting yesterday left one dead and a Clarksville police officer injured. He is currently being held without bond.
Benjamin Schweitzer, 26, of 3388 Quicksilver, Clarksville, Tennessee. was treated and released from an area hospital overnight after being injured by law enforcement gunfire and booked into the Montgomery County Jail.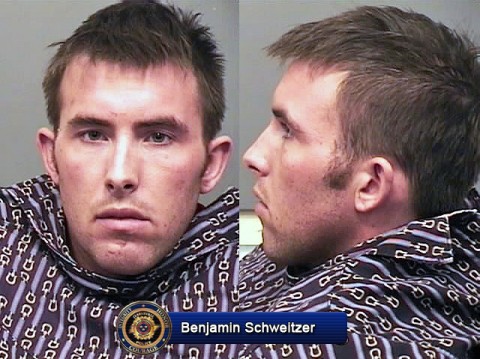 At approximately 11:30 am yesterday morning, the Clarksville Police Department got a phone call from a resident at 3389 Quicksilver who reported there was a man bleeding on her front porch.
When CPD officers arrived, they found the victim Sergeant First Class  Frederick Nicholas Moses, 26, deceased and followed a trail of his blood back inside the residence at 3388 Quicksilver. Officers Travis Baker, James Eure, Shawn Brown, and SGT Andy Hagewood made entrance into the residence and found Schweitzer locked in a bedroom. Officer made entrance into the bedroom and Schweitzer fired at officers injuring Officer James Eure in the shoulder. Officers returned fire and Schweitzer received minor injuries.
The Officer Eure was treated and released from Gateway Medical Center. TBI is currently investigating the officer involved shooting aspect of the incident and will turn the case file over to the District Attorney General for review at completion.
It is possible that Schweitzer will face additional charges.
Both Moses and Schweitzer were assigned to 5th Special Forces Group (Airborne) at Fort Campbell, Ky.
For more on the story, see: Homicide leads to Police Standoff in North Clarksville
Benjamin Schweitzer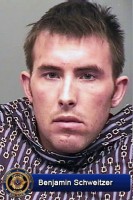 Name: Benjamin Schweitzer (M/W)
DOB: 3/ 20/ 85
Address:  3388 Quicksilver Court, Clarksville, TN
Arresting Officer: Thomas Tranberg
Charged With: Criminal Homicide, 1st, 2nd, etc. Degree Murder
Booked Into: Montgomery County Jail
Bond: Held Without Bond
Photo Gallery