Hank Bonecutter and Bill Larson contributed to this story

Clarksville, TN – Clarksville police and swat team members were called to a North Clarksville neighborhood this morning after receiving a call that shots had been fired. A residential burglary was in progress, and a man was reported to be bleeding on the front porch of a Quicksilver Court residence. The man crossed the street for help after his roommate  shot him in his residence during an argument.
When the Clarksville Police Department arrived on scene they found the shooting victim dead from his injuries, as of this time his name has not been released. There was a trail of blood leading back across the street to the house where the shooter was hiding barricaded inside one of the bedrooms.
Four Clarksville Police officers entered the home, and during their search found a locked bedroom door. The officers kicked it open, and were shot at by a man from a "ambush position" behind the door to the room. One of the Clarksville Police Officer was shot in the arm or shoulder causing the officers to retreat back further in the the home, to protect themselves they returned fire with the suspect. Unconfirmed sources report that the shooter was wounded in the knee. The names of the police officers involved have not yet been released.
The Clarksville Police Department's tactical team set up a perimeter, the neighbors were evacuated, and nearby schools were put on lock-down as a safety precaution. Once the area was secured, the Clarksville Police Department attempted to enter into negotiations with the suspect who initially refused to communicate with the police. Several canisters of teargas were deployed in the residence prompting the subject start talking with the officers on scene. The home where the shootings took place are on Quicksilver Court.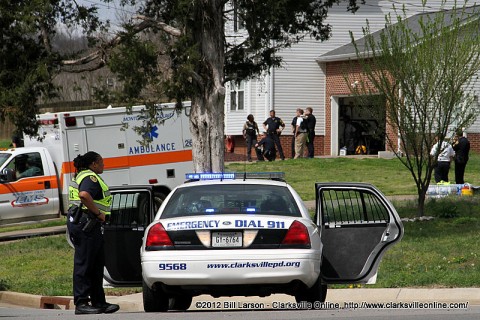 After several hours of negotiation with police, the suspect surrendered and was placed under arrest before being transported to a local hospital for treatment, the full extent of his injuries are  currently unknown.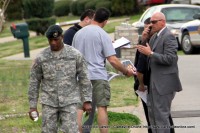 The Tennessee Bureau of Investigation became involved, and has since taken over the investigation. Unconfirmed reports state that the suspect and victim were both in the Special Forces from Fort Campbell, though Fort Campbell authorities are assisting the TBI with this case.
The Clarksville Police officer who was shot is currently in the process of being released from the hospital, his injuries were not life threatening.
Continue to monitor Clarksville Online for more updates.
Photo Gallery