APSU Sports: Austin Peay Football

Clarksville, TN – Unusually warm March temperatures may have taken their toll on Austin Peay State University's defense, Sunday, in the Governors first football scrimmage held at Governors Stadium.
The offense held an edge during the day-scoring four times-but it was how it dominated near scrimmage's end that concerned head coach Rick Christophel said.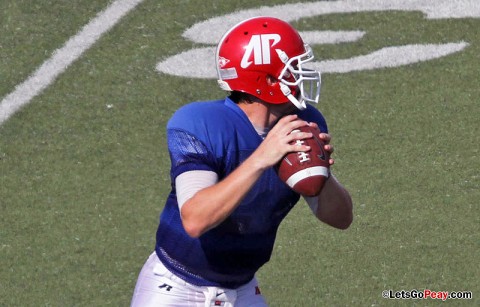 "We have to improve our tackling," he said. "That showed up especially late in the scrimmage as we started to get tired.
"I was really surprised we gave up big plays; that is something we have not done in practice. We have to become more consistent on the defensive side of the football."
With temperatures in the low 80s, the Governors rushing attack asserted itself in the final 30 plays of the 80-play scrimmage.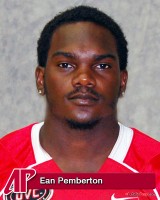 Sophomore running back Ean Pemberton, who had 16 yards in his first five carries, finished with 77 yards on 15 attempts, including a nine-yard TD run.
Redshirt freshman Reco Williams, who had 10 yards in his first six attempts, ended with 52 yards in 15 carries.
The two young tailbacks are the Govs version of Dash and Smash as Pemberton stands only 5-3 and weighs 150 pounds while Williams, the local product (Northeast High School), is 6-1 and 250-pounds-plus. Another local product, redshirt sophomore Troy Turner, scored the Governors' other ground TD on a four-yard ramble.
Rising senior tailback Wes Kitts, who is expected to get the first shot at the tailback position, didn't play because of a leg injury.
"I thought Ean Pemberton really ran the ball with authority and got better as the scrimmage went on," Christophel said. "I also thought Reco, once he got going, really did some good things."
Senior quarterback Jake Ryan, on just his second pass of the scrimmage, hooked up with his favorite target, Devin Stark, on a 38-yard TD catch.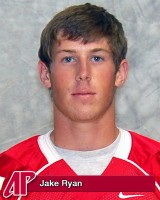 Ryan, who finished 12 of 18 passing for 190 yards, also hooked up for a 34-yard TD toss to Robert Lemon, who not only was able to reach low for the pass, but then turned to elude a trio of defenders en route to the end zone. Lemon finished with two receptions for a team-best 54 yards.
Senior kicker Stephen Stansell nailed a 42-yard field goal while sophomore Walter Spears booted one from 13 yards out.