APSU Sports: Austin Peay Women's Tennis

Clarksville, TN – Senior Vanja Tomic and freshman Alison Carre, of the Austin Peay State University women's tennis team, were named first-team All-Ohio Valley Conference as voted on by the league's coaches, the conference office announced, Thursday.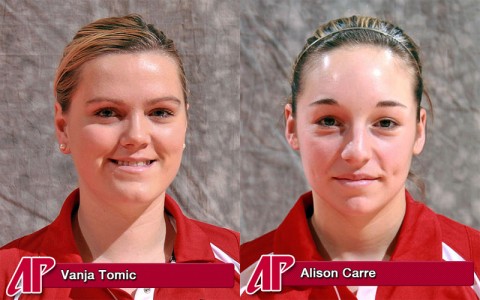 Tomic, who set the standard high in earning OVC Player of the Year honors as sophomore, finished the season with an 8-1 OVC record, her only loss coming during the final weekend of league play. A three-time first-team All-OVC pick, Tomic has lost only two OVC matches during her career.
"She's done tremendous work this year on the court," head coach Malik Tabet said. "To be able to get wins, day in and day out, the way she did is impressive. It's unfortunate that her chance for player of the year was dictated by one loss.  To finish her career with only two OVC losses is unbelievable."
In fact, during this season Tomic posted a remarkable 17-match win streak, comparable only to her own streak set during her sophomore season. Along the way, she defeated two ranked opponents and had only one match go into the third set, accounting for 17 straight-set wins during the season.
Doubles proved to be Tomic's only weakness, as she teamed with Carre beginning in January. The duo posted a 10-11 overall mark at No. 1, including a 5-4 OVC record.
Carre joined the Lady Govs in January and opened the season at No. 2 singles. Originally, she struggled with the transition to college tennis, but after moving to No. 3 singles, February 24th against Belmont, she seemed to find her way. On back-to-back days, Carre won a straight-set match against Belmont and a super-tiebreak against Lipscomb.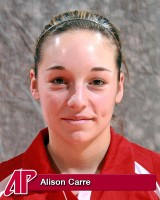 "Alison's turnaround shows that the players in this program are improving," Tabet said. "She learned how to be a better match player and how to compete in each match. This is a great accomplishment for her."
After falling in three-sets at Troy, Carre won 10 of her next 12 matches. She finished the season with a 10-4 record at No. 3 singles and 7-1 OVC mark.
"She struggled mentally in the beginning of the season and has turned into a really tough competitor," Tabet said. "I'm really looking forward to next season when she has the fall to prepare. It's going to be good."