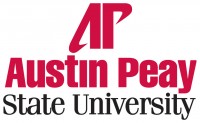 Clarksville, TN – On Tuesday afternoon, Austin Peay State University recognized five professors with the highest distinctions awarded to faculty members during the University's annual Honors and Awards Ceremony.

Dr. Mary Lou Witherspoon, professor of mathematics, was named the recipient of the 2012 APSU Alumni Association Distinguished Professor Award. The award is presented annually to a faculty member or department chairperson who has completed a minimum of four years of full-time teaching at Austin Peay.

It includes a plaque and a check for $1,000 and is based on exemplary professional performance with a major emphasis on teaching. The faculty member who earns the Distinguished Professor Award in May serves as commencement speaker at APSU's winter graduation.

Witherspoon earned her Bachelor of Science in elementary education from APSU, and then went on to receive both her Master of Education and Doctor of Education from Vanderbilt University's George Peabody College for Teachers.

She returned to her alma mater, and throughout her academic career at APSU, Witherspoon has brought notoriety to the University with the publication of a book and numerous articles on the important subject of teaching children mathematics. She averages more than two presentations a year, at conferences such as the annual Association of Mathematics Teacher Educators and Tennessee Mathematics Teacher Educators.

For the past 10 years she has served as the editor and principal writer for the Tennessee Middle School Mathematics Contest, which is hosted at various sites across the state.

Many of her students are individuals seeking licensure in elementary education, and they often have negative opinions about both math and their abilities in this subject. That's why Witherspoon rarely lectures in the courses she teaches. Instead, she poses problems that encourage students to explore different ways to approach the mathematics so they can find a path that is meaningful to them.

Her methods allow students to view her classes as, to quote one of her students, both "ridiculously hard" and "kind of fun."

Dr. Kevin Harris, assistant professor of psychology, was presented with the Richard M. Hawkins Award. The award is presented every spring in recognition of exceptional scholarly and creative work produced by a faculty member.

Harris earned his doctorate in cognitive psychology at Florida State University, under the direction of Dr. K. Anders Ericsson, the world's foremost "expert on experts." While at Florida State, Harris served as a founding member of that school's renowned Center for Expert Performance Research.

In 2008, Harris joined the psychology faculty at APSU, where he has garnered a national reputation for his research on issues of performance under stressful, dynamic and potentially life-threatening situations in areas such as health care, law enforcement and the military.

Dr. Samuel Fung, chair of the APSU psychology department, has called Harris "an active researcher," and he has applauded his many collaborations with faculty members, "both at APSU and other institutions," in major research projects. Those collaborations include working closely with APSU's School of Nursing, the Vanderbilt University School of Medicine's Center for Experiential Learning and Assessment, the Florida State University School of Nursing, the North Mississippi Medical Center and the department of social psychology at the University of Nigmegen in the Netherlands.

He has more than 40 academic publications and presentations to his credit, and he has presented his research at such distinguished conferences as the Association for Applied Sport Psychology, the Annual Conference of the Society for Personality and Social Psychology and the International Conference on Work, Stress and Health.

Dr. Lisa O'Dear Lewis, assistant professor of health and human performance; Dr. Jeannette Zyko, assistant professor of music; and Dr. Christopher Gentry, associate professor of geosciences and director of the APSU Office of Undergraduate Research, each received APSU's Socrates Award. That award is presented each year to tenure-track faculty members who are known around campus for their ability to inspire and motivate our students.

Lewis joined the faculty in 2007 with a B.S. in physical education and a Master of Science from Middle Tennessee State University. She earned her Doctor of Education in supervision and administration in higher education from Tennessee State University with the completion of her dissertation, "The Relationship of Physical Activity, Self-Esteem and Percentage Body Fat to Grade Point Average."

Dr. Marcy Maurer, chair of the department of health and human performance, said that Lewis "embodies the true spirit of student engagement in her classes. She invites numerous community groups to campus so that students can teach activities to preschoolers, elementary children and adults with disabilities. Each experience gives both the student and the participant an opportunity to interact and learn from each other not found in a traditional classroom."

Zyko joined the University in 2008, and she has been nominated for the last three consecutive years for this distinction.

An accomplished oboist, she earned her Bachelor of Music from the University of Hartford in Connecticut, her Master of Music from Butler University in Indiana and her Doctor of Musical Arts in oboe performance from the Manhattan School of Music in New York City.

Dr. Douglas Rose, chair of the department of music, has visited Dr. Zyko's classes, and he is often impressed with what he sees.

"I have found Dr. Zyko to be an exceptional teacher in every setting," he said. "She is a consummate musician who also has a particular gift for teaching and mentoring young musicians. Whether she is in the classroom or in the studio, she projects an openness to (and acceptance of) all students, regardless of their level of talent and academic ability. She communicates exceptionally well and brings the best out of each student."

Gentry joined the APSU faculty four years ago after earning his Bachelor of Arts from Indian University Southeast and both his M.A. and his Ph.D. in physical geography from Indiana State University in Terre Haute.

Dr. Robert Sirk, chair of the department of geosciences, commended Gentry as a professor held in the "highest professional regard" by both his students and his colleagues.

"Dr. Gentry is extremely active professionally," Sirk said, "with many publications, presentations and successful grant solicitations. He is a mentor to geoscience students in their research, which in several instances has resulted in our students presenting at professional conferences."

To date, Gentry has obtained more than $300,000 in funding to conduct research and provide APSU students with one-of-a-kind opportunities. Last summer, using Student Academic Success Initiative money, he developed a new upper-division field study course that took students to Colorado for several weeks.



Sections
Education
Topics
APSU, APSU Alumni Association distinguished Professor Award, APSU Honors and Awards Ceremony, APSU Office of Undergraduate Research, APSU Psychology Department, APSU School of Nursing, APSU Students, Austin Peay State University, Christopher Gentry, Clarksville TN, Douglas Rose, Florida State University, Jeannette Zyko, Kevin Harris, Lisa O'Dear Lewis, Marcy Maurer, Mary Lou Witherspoon, Middle Tennessee State University, Richard M. Hawkins Award, Robert Sirk, Samuel Fung, Vanderbilt University