Eighth Clarksville Writers' Conference 2012: What Chuck Sambuchino Had to Say about Creating Your Writer Platform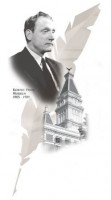 Clarksville, TN – Listening to Chuck Sambuchino [1] at the Eighth Annual Clarksville Writers' Conference was like getting the inside scoop on how to become famous. His expertise as an editor and writer at Writer's Digest Books gives him the right to tell it like it is.
Editing the Guide to Literary Agents and Children's Writer's & Illustrator's Market would be a full time occupation for most people, but Chuck has just signed the option for a movie deal for his first humor book, How to Survive a Garden Gnome Attack (2010) and is about to publish Red Dog/Blue Dog: When Pooches Get Political.
Additionally, Chuck has also written two writing-related books: Formatting & Submitting Your Manuscript (third edition, 2009) and Create Your Writer Platform (Fall, 2012). The winner of awards from the Kentucky Press Association and the Cincinnati Society of Professional Journalists, he is a former staff writer from several magazines and newspapers like Writer's Digest [2].
In other words, he's been working on his own platform for quite a while with over 600 article in newspapers, magazines and books. He's a produced playwright and will be leading a retreat in Greece this August.
Here's what he had to tell aspiring writers about what they need to do to create their own platforms.
First, a platform is your visibility, your influence and your reach. You have to create it before you need it, the sooner the better! When you speak, who listens? The ultimate platform in this country is owned by Oprah; she's everywhere you need to be.
Here are some parts of a platform you need to choose from and emphasize the ones that work best for you: a website or blog of impressive size like Clarksville Online; an e-newsletter and mailing list; articles and columns you are writing for media with large outlets; guest contributions to the successful websites, blogs and periodicals that work for your area of expertise; a track record of strong book sales; individuals of influence you know who can help you market at no cost to you (through blurbs, promotion or other means); public speaking appearances (the bigger, the better); an impressive social medial presence (Twitter, Facebook, etc.); memberships in organizations that support the successes of their own; and recurring media appearances and interviews (print, radio, TV, on line).
All nonfiction writers need a platform. Sometimes memoir writers and fiction writers need a platform—and everyone with self-published books must have a platform.
The reason you need a platform is that you are now your book's top marketer and people need to find your book!
Platform gives you control over your sales and brings in money. It's what you need to do when you are not writing—and no one can write every minute of the day.
Remember that when you give, you receive. Offer to help other people and they will be more willing to help you. You need to start small and early, but have a plan and be open to tweaking that plan. Piggyback on other people who are successful and allow you to become part of their network.
Debut your work through your website that contains your e-mail address so that others can reach you. Examine what others in your field are doing and see what they are doing right so that you can do it too! List all of your accomplishments in writing—columns you have written, magazines and newspapers for which you have written, and interviews you have had on radio or television.
Don't waste your money on advertising that is rarely effective. Build your platform by getting as much visibility as you can.
Platform equals success equals money!
Photo Gallery