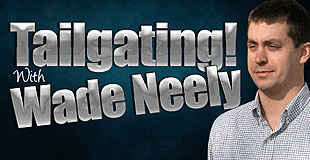 Clarksville, TN – I'll always remember the night of June 21st, 2012.
Sure, stories will be told and details will come and go, but I'll always remember the night history was made.
I'll always remember the night I saw LeBron James – who will go down as one of the greatest to ever play the game – win his first NBA championship.
After losing to the Mavericks in the Finals a year ago, James and the Heat ran roughshod over the Thunder 121-106 Thursday night to clinch an impressive 4-1 series win.
And while the title obviously means a lot to the other Heat players (it was the second title for Dwayne Wade, first for Chris Bosh), coaches (first for Erik Spoelstra), executives (seventh for Pat Riley, but first as Team President) and fans, (the franchise's second) it was easy to see how much more the title seemed to mean to James.
After his infamous "Decision" to spurn his hometown Cleveland Cavaliers and join forces with Wade and Bosh in Miami in 2010, the self-proclaimed "King" was placed under an unimaginable amount of pressure and scrutiny.
Anything less than a championship (or 7) would not only be deemed a complete and utter failure for James and the Heat, it would provide ammunition for the anti-LeBron camp.
Less than a year after "The Decision", James and the Heat were poised to make history and immediately quiet the haters, but squandered their 2-1 series lead and were eliminated in six games.
After Thursday's win, James admitted that seeing the Mavs hoist the Larry O'Brien Trophy on his home floor was the lowest point in his professional career.
"It took me to go all the way to the top and then hit rock bottom to realize what I needed to do as a professional athlete and as a person."
Ironically, it was also that Finals loss, James said, that helped him re-tool his game and ultimately fuel him toward a championship run in 2012.
"I've taken one, maybe one-and-a-half to two weeks off since we lost in the Finals. I got right back in the gym and I got back to the basics."
Faced with the possibility of a lost season due to lockout, James kept grinding and helped guide the Heat to the second seed in the Eastern Conference, defeating the New York Knicks handily in the first round before an unexpected hiccup saw the Heat in an unexpected 2-1 series disadvantage against the Indiana Pacers in the semifinals.
After falling behind in Indianapolis, however, something seemed to click for the three-time league Most Valuable Player.
Over the next 10 games leading up to the NBA Finals, James would go on one of the great runs in playoff history, averaging a double-double (33.3 points, 11.1 rebounds) while also dishing out 5.1 assists per game.
James played especially well with his back against the wall during this postseason run, posting 45-15-5 in an elimination game against the Celtics in Boston.
Game 7 wasn't much different for James – as he scored 31 points and grabbed 12 boards to punch a ticket back to the Finals.
With the memories of failure in the Finals a year ago still in his mind, James was brilliant against the Thunder, averaging 28.6 points, 10.2 rebounds and 7.4 assists – all while playing over 44 minutes per game.
Ultimately, however, James saved his best for last.
Playing in his first-ever Finals-clinching opportunity, James notched a triple-double in Game 5, scoring 26 points to go along with 13 assists and 11 rebounds.
In the history of Finals MVP votes, this one will rank among the easiest of all-time as James unanimously claimed his first-ever Bill Russell Finals MVP trophy.
"I knew what got me to this point, and that was hard work and dedication, and I never had to prove anything to anyone," James said. "You know, in my first seven years, I just went out and let the game take care of itself.
"And last year, I tried to prove something to everybody, and I played with a lot of hate," James continued. "And that's not the way I play the game of basketball. I play it with a lot of love, and a lot of passion, and that's what I got back to this year."
Even James' teammates raved about his performance and dedication.
"I don't know if I could be happier for another guy," Wade said. "I'm proud of him. He really took being the best player in the league to another level."
Years from now, I doubt I'll remember many of the minute details from Thursday night.
(One trivia note, however: With the Heat's victory, Juwan Howard became the first member of Michigan's famed "Fab Five" to ever win a Big Ten, NCAA or NBA title.
Additionally, Shane Battier became just the second Duke player in the Mike Krzyzewski era to win an NBA title. Danny Ferry's 2003 title with the San Antonio Spurs was the only other.)
I'm sure I'll remember bits and pieces of the win, (like Mike Miller's unbelievable performance off the bench) but ultimately I'll always remember one thing:
A 27-year-old LeBron James, (who bested the great Michael Jordan by one year for his first title) in his third trip to the Finals, jumping up and down on the sidelines and sharing a moment of pure, unbridled joy with his teammates and fans.
And while James will always have his detractors (all the great ones do), they will never be able to take away the memories of June 21st, 2012.
"All I know is I'm a champion," James said. "That's all that matters."
Enjoy it, LeBron. You've earned it.