Clarksville, TN – On July 7th, 2012, around 4:30pm, Clarksville Police were called to the parking lot of a bar at 1302 Fort Campbell Boulevard about a pedestrian being hit.
When police arrived they found a 27 year old woman, Faith Jerrett, had been run over in the parking lot by a vehicle. An investigation by Officer Melissa Spielhagen, revealed the woman had called her friend, Anibal Flores Marcano, to give her a ride home from the bar.
When Marcano arrived, he went inside and had a few drinks with the woman and decided it was time to leave. The woman was not ready to go and started to argue Marcano so he was going to leave with her.
He entered the vehicle, started to back up, and the woman attempted to get in the vehicle through an open passenger window while the vehicle was still in motion. She was able to partially enter the window, but fell out and was run over by the right front tire.
Faith Jarrett was taken to Gateway Medical Center by ambulance and then transferred to Vanderbilt University Medical Center by Lifeflight injuries to her lower body. She is in the hospital in stable condition.
Anibal Marcano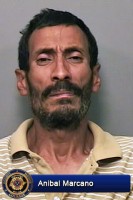 Name: Anibal Flores Marcano (H/M)
DOB: 5/16/65
Given Address: 100 Brookside Drive, Apt 3, Clarksville, TN
Charged With: DUI, 2nd Offense
Booked Into: Montgomery County Jail
Bond: $500.00.