Clarksville Police Officer Darren Koski had no idea how many twists and turns would be included with an Aggravated Domestic Assault.

Clarksville, TN – On July 6th, 2012, around 2:30am, Clarksville Police Officers were called to 706 Inver Lane about a domestic disturbance in which Christopher Duncan, 20, had fired a handgun round into the air.
When Police arrived, they quickly located Duncan and took him in custody. An investigation by Officer Darren Koski lead to many charges and the solving of other crimes.
He found that Duncan had come to the residence to confront his mother's boyfriend over a previous physical confrontation. His mother, half sister, and a 16 year old male were outside when Duncan pulled out a handgun and shot it into the air within several feet of the victims placing them all in fear.
After Duncan was taken to Police headquarters to continue the investigation, Officer Koski found that Duncan had been involved in some other crimes which had taken place in the area. He determined the handgun which Duncan had fired the round from had been stolen by Duncan from his grandfather's house within the last couple of days.
Further investigation also showed that Duncan had broken into three unlocked vehicles on the way to his mother's Inver Lane residence.
Christopher Duncan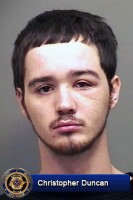 Name: Christopher Allen Duncan (W/M)
DOB: 6/12/92
Given address:  511 Linda Lane, Clarksville, TN
Arresting Officer: Darren Koski
Charged With: Three Counts of Aggravated Assault, Three Counts of Vehicle Burglary, Unlawful Carrying of a Deadly Weapon, and Theft of Property
Booked Into: Montgomery County Jail
Bond: $41,000.