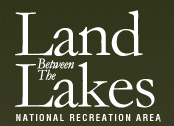 Golden Pond, KY – Experience the heart-pounding excitement of an old-fashioned rodeo at the 16th Annual Grand Jubilee and Primitive Rodeo July 20th-21st at Wranglers Campground in Land Between The Lakes (LBL) National Recreation Area.
Bring the family to enjoy rodeo events, children's activities, and festival foods.  Wranglers Campground is located 5 miles south of Golden Pond Visitor Center.
The Jubilee celebrates all the horse lovers and trail riders who have made Wranglers Campground so successful each year. Wranglers Campground offers half-price camping on that Friday and Saturday.
J-N Rodeo Company returns to Wranglers Campground with events beginning at 8:00pm both Friday and Saturday. Enjoy exciting rodeo activities such as saddle-bronc and bareback riding, steer wrestling, calf roping, barrel racing, break-away roping, and bull riding. "Primitive" refers to the informal atmosphere–so bring your own lawn chairs. Rodeo admission is $8.00 ages 13 and up; $5.00 ages 12 and under.
"We invite people to come on out and have some fun at our Primitive Rodeo and Grand Jubilee," said Randall Mitchell, Wranglers Campground Manager.  "Remember to bring the family and horses anytime to Wranglers for camping, horseback riding, and for guided trail riding at Rocking U Riding Stables."
Come Outside and Play at Land Between The Lakes National Recreation Area.  Managed by the Forest Service, U.S. Department of Agriculture, Land Between The Lakes provides outdoor recreation, lake access, and environmental education for the public to enjoy.
Visitors are encouraged to review LBL's official website at www.lbl.org often for Calendar of Events, updates on programs and policies, safety information, maps, and temporary trail and road closures.  Follow Land Between The Lakes on www.Twitter.com/LBLScreechOwl.
Additional LBL information can be found on the website or by calling 1800.LBL.7077 or 270.924.2000.