Clarksville, TN – Clarksville Police Department's latest academy graduates, who graduated August 3rd, 2012, distinguished themselves among their peers. The five academy grads, once again, validated our recruiting standards.
Officer Dustin Reynolds was recognized as the Outstanding Officer for top overall score for academic and practical skills application, received the award for highest academic score and served as an Academic Officer assisting his classmates to achieve their academic standards.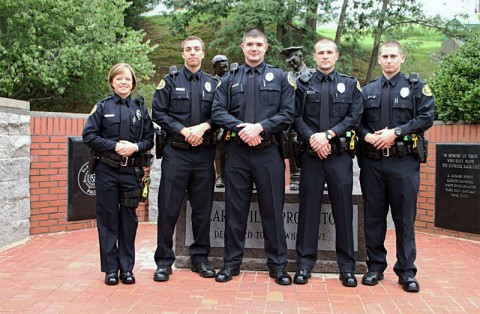 Anthony Murphy received the Legal Award for the highest academic score on the law portion of the academy, receiving a $5,000 scholarship, took top honors on the driving track and served as a Squad leader.
Officers Gary Mefford and Thomas Biele assumed leaderships roles as Squad Leaders.  Officer Lacey Kitarogers took on the additional responsibility of Academic Officer.
Out of a class of 51 graduates, our officers, had some of the top class rankings and achieved the number one, three, four, and sixth positions in their graduating class.
The officers are completing in-house training and will hit the streets at the end of August to begin their field training phase. They will be with Field Training Officers for 14 weeks to develop their on the job skills after learning basic law enforcement techniques in the academy.
They are closely evaluated during the Field Training phase and  are required to be well-versed in the local, state, and federal laws that apply to their law enforcement duties. They will also be closely scrutinized on their interpersonal skills when interacting with the public and coworkers.
After successful completion of field training, officers will be allowed to go solo and be assigned to a duty position.