APSU Sports: Austin Peay Volleyball

Richmond, KY – Senior outside hitter Nikki Doyle had a match-high 14 kills, but it wasn't enough as Austin Peay State University's volleyball team was swept (22-25, 23-25, 19-25) by Eastern Kentucky, Saturday afternoon at McBrayer Arena.
Austin Peay (8-11, 2-2 OVC West) never held a lead in the match and only forced eight ties in the three sets. Doyle was the lone Lady Govs player to reach double-digit kill territory and posted a .229 attack percentage. Sophomore Liz Landon was the only other APSU hitter to show any offensive consistency, recording five kills on 10 attacks.
The Lady Govs as a whole were held to 35 kills and a .140 attack percentage, but minus Doyle and Landon's contributions, the team had only 16 kills and a .002 attack percentage.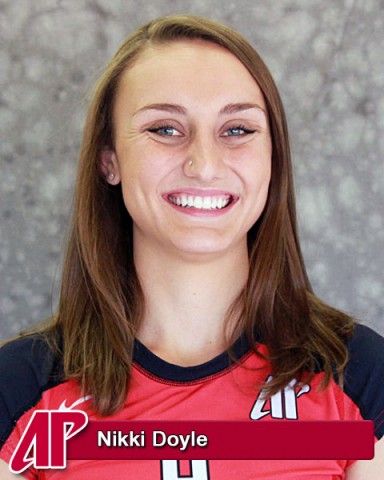 "We were not mentally prepared to play today," said Lady Govs head coach Taylor Mott. "We did not execute and made so many errors we never really gave ourselves a chance to win. We are entering a critical three weekends in conference play and need to be ready to play if we are going to keep pace in the race."
Ashley Edmond led Eastern Kentucky with 10 kills and a .273 attack percentage while Alexis Plagens added nine kills. The Colonels posted 29 kills with a .260 attack percentage in the victory.
Austin Peay returns to action when it travels to OVC West-leading Southeast Missouri for a 6:30 p.m., Friday contest at Houck Fieldhouse.
Copies in a Flash Player of the Game was Nikki Doyle.
Box Score
Austin Peay vs Eastern Kentucky
(September 29th, 2012 at Richmond, KY)
Austin Peay
ATTACK
SET
SERVE
SRV
DEF
BLOCK
GEN
##
Player
SP
K
E
TA
PCT
A
SA
SE
RE
DIG
BS
BA
BE
BHE
Points

1

FIELDS, Cami

3

0

0

1

.000

33

0

0

0

10

0

0

0

1

0.0

5

SAIN, Alex

3

3

2

11

.091

0

0

0

0

7

0

0

0

0

3.0

8

LANDON, Liz

3

5

0

10

.500

0

0

1

0

4

0

1

0

0

5.5

9

DOYLE, Nikki

3

14

6

35

.229

0

2

2

1

8

0

1

0

0

16.5

12

HENDERSON, Lauren

3

1

2

4

-.250

0

2

2

0

0

0

1

0

0

3.5

14

STOTTS, Jada

3

8

6

30

.067

0

0

1

2

8

0

0

0

0

8.0

2

HULL, Calyn

1

0

0

0

.000

0

0

1

0

0

0

0

0

1

0.0

3

ADAMS, April

3

0

0

0

.000

1

0

0

1

5

0

0

0

0

0.0

7

MARSELLIS, Aubrey

2

0

0

0

.000

0

0

0

0

0

0

0

0

1

0.0

15

PLYBON, Hillary

2

4

5

9

-.111

0

0

0

0

0

1

1

0

0

5.5

TEAM

1

Totals

3

35

21

100

.140

34

4

7

5

42

1

4

0

3

42.0

TOTAL TEAM BLOCKS: 3.0
TEAM ATTACK BY SET
Set
K
E
TA
Pct
Sideout
Pct

1

10

9

34

.029

14-25

56%

2

14

6

36

.222

16-24

66%

3

11

6

30

.167

13-25

51%

43-74

58%

SET SCORES
1
2
3
TEAM RECORDS

Austin Peay

(0)

22

23

19

8-11 (2-2 OVC)

Eastern Kentucky

(3)

25

25

25

4-10 (1-3 OVC)
Eastern Kentucky
ATTACK
SET
SERVE
SRV
DEF
BLOCK
GEN
##
Player
SP
K
E
TA
PCT
A
SA
SE
RE
DIG
BS
BA
BE
BHE
Points

2

PLAGENS, Alexis

3

9

1

17

.471

1

1

2

0

3

0

0

0

0

10.0

3

MOFFAT, Mallori

3

0

0

0

.000

22

1

3

0

4

0

0

0

0

1.0

7

KUEHNER, Kelsey

3

6

2

18

.222

0

1

2

0

3

0

0

0

0

7.0

11

VICK, Rachel

3

6

3

20

.150

0

0

0

0

0

1

2

1

0

8.0

21

EDMOND, Ashley

3

10

4

22

.273

0

1

1

1

11

0

1

0

0

11.5

22

TASHENBERG, Marissa

3

6

1

12

.417

1

0

0

0

0

0

1

0

1

6.5

1

OTT, Dena

3

0

1

2

-.500

1

1

0

1

15

0

0

0

0

1.0

6

MINDLINA, Julia

3

0

0

2

.000

1

0

0

0

2

0

0

0

0

0.0

10

BILTZ, Candice

3

0

0

0

.000

0

0

2

0

2

0

0

0

0

0.0

13

CVELBAR, Abbey

3

2

1

7

.143

11

0

0

0

2

0

0

0

1

2.0

TEAM

2

Totals

3

39

13

100

.260

37

5

10

4

42

1

4

1

2

47.0

TOTAL TEAM BLOCKS: 3.0
TEAM ATTACK BY SET
Set
K
E
TA
Pct
Sideout
Pct

1

12

5

32

.219

14-22

63%

2

16

6

37

.270

17-24

70%

3

11

2

31

.290

13-19

68%

44-65

67%

Site: Richmond, Ky. (McBrayer Arena)
Date: Sep 29, 2012 Attend: 125 Time: 1:17
Referees: Bill Zehler, Jeff Fossett


| | | | | |
| --- | --- | --- | --- | --- |
| | 1 | 2 | 3 | Total |
| Tie scores | 4 | 3 | 1 | 8 |
| Lead changes | 0 | 0 | 0 | 0 |