Clarksville, TN – Clarksville Police are still piecing together the details of a house party confrontation which resulted in a 24 year old man and 19 year woman being shot.
On October 21st, around 1:30am Clarksville Police Officers heard several shots being fired in area of the 400 Block of North Second Street. Within minutes, 911 received several calls about shots fired and two individuals had been shot.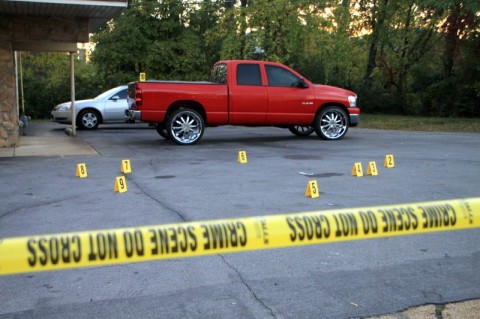 Officers arrived at 424 North Second Street and found a 24 year man and 19 year old woman in the front yard of the residence who had sustained gunshot wounds. The man had been shot in the rib area and was taken by Lifeflight to a Nashville hospital in stable condition. The woman had been shot in the knee and was initially taken to Gateway Medical Center and then  transferred to Nashville in stable condition.
The exact details of the incident are still sketchy. Police have determined there was a house party at 424 North Second Street and there were multiple verbal and physical confrontations which took place inside the house and a gun had been displayed.
The confrontations spilled over to the outside of the house. At some point, several shots were fired toward the residence from across the street by unidentified subjects, at which time, the man and woman were hit by gunfire.
Witnesses have told police, men were seen shooting toward the residence from the street and then quickly left the scene in different vehicles. There were several shell casings found on the lot and in the street at 415 North Second Street. Police detained and questioned six people who had either been at house party or witnessed the events which occurred.
There are several leads which Police are following at this time.
There is no further information.
The lead investigator is Detective Nick Newman, 931.648.0656, ext. 5340 or the TIPSLINE, 931.645.8477.
Photo Gallery