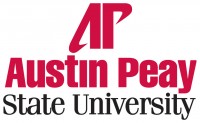 Clarksville, TN – There's a small book on Darren Michael's desk filled with black and white images of shorthaired flappers and young jazz musicians from the 1920s. Earlier in the semester, the Austin Peay State University associate professor of theater flipped through the book to find the right look for his new adaptation of William Shakespeare's "Twelfth Night."
"We're setting it in the late 1920s in the coastal Carolina and Florida area," he said. "There's a lot of art deco going on. There will be a lot of early blues and early jazz music playing through it. It's a lot of fun."
The comedy, about a pair of shipwrecked twins and the hijinks that result from a series of mistaken identities, runs from November 14th-18th at the APSU Trahern Theater. Tickets are available beginning 10 days before the show in the Trahern Box Office or by calling 931.221.6767.
Michael, the show's director, is also offering local audiences a more streamlined approach to Shakespeare with this performance. Instead of breaking up the action with an intermission, he will present the play in a single 90-minute block.
"We're cutting about 30 minutes out of it, but I don't think there will be things people will notice," he said. "All the famous speeches are there. Nowadays, you just don't do all of Shakespeare. Modern audiences can't sit for three hours, four hours at a time. We hope it will be a little more accessible to people. We hope the play just flies through."
The play will also feature scenic designer Noel Rennerfeldt's custom-built rotating stage, which will turn throughout the evening to offer new perspectives, and a young cast of APSU students.
"There are a lot of visuals and good sound, and the cast is wonderful," Michael said. "We have some really strong freshmen and sophomores. They're doing really, really good work."
This performance kicks off the 2012-13 season for the APSU Area of Theatre and Dance, and, in comparison to last year, it promises to be a more light-hearted season. In December, the program will host its annual Fall Student Choreographer showcase.
In the spring, APSU associate professor of theater Dr. Sarah Gotcher will direct A.R. Gurney's comedy "Sylvia," about a husband's unhealthy relationship with his dog. Dance students and faculty will then take the stage in March for the Spring Annual Dance Concert, and the season will end in April with a performance of Aristophanes' comic, antiwar play "Lysistrara."
For more information on the upcoming performance of Shakespeare's "Twelfth Night," contact the APSU Area of Theatre and Dance at 931.221.6767.