Clarksville, TN – According to witness accounts, a group of acquaintances were playing cards inside a residence at 11 Avalon Street. One of the men, Danny McDaniel, 31, had a handgun in his possession.
While handling the firearm, Danny McDaniel accidentally discharged the firearm.  The bullet went through his left hand and then struck Kyle Drum, 19, in the right hip area.
By the time Clarksville Police Officers arrived, another man had removed the firearm from the residence.
K-9 Officer Gabe Johnson and his police service dog located the firearm after it had been abandoned in the area of Charlemagne and Sevier Street. Also, while inside of the residence, officers found drugs and paraphernalia.
Officer William Evans arrested Stacey Gray for possession of cocaine for resale and unlawful drug paraphernalia.
The investigation is ongoing and additional charges are pending.
Detective Eric Ewing is the lead investigator.
Stacey Gray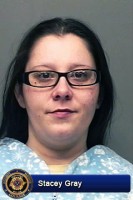 Name: Stacey Gray (W/F)
DOB: 7/25/84
Given address: 11 Avalon Street, Clarksville, TN
Arresting Officer: William Evans
Charged With: Possession for Resale Cocaine and Unlawful Drug Paraphernalia
Booked Into: Montgomery County Jail
Bond: $5500.