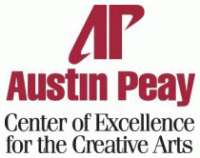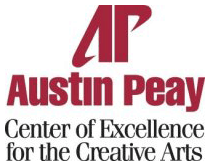 Clarksville, TN – The Austin Peay State University Center of Excellence for the Creative Arts is looking for nominees from the Clarksville-Montgomery County community to receive this year's coveted Ovation Awards.
Since 1996, the Center has honored individuals who made significant contributions to the artistic and cultural life of the Clarksville community.
The five award categories include
Artist: A living Tennessee artist active in the field of literature, visual arts, performing arts, music, folk arts, architecture or design, who lives or lived in Montgomery County. Past award winners include Mike Fink, Susan Bryant and Charlotte O. Marshall.
Community: A Clarksville-Montgomery County community organization or institution for an outstanding arts-based community program or project. Schools and the school district are not eligible in this category. Past award winners include The Roxy Regional Theatre, Empty Bowls Clarksville and the Downtown Clarksville Association.
Business: A business or corporation that has made a significant contribution to support arts and culture in Montgomery County. Government agencies are not eligible.  Past winners include The Leaf-Chronicle, Silke's Olde World Breads and F&M Bank.
Young Artist:  A high school student within the Clarksville-Montgomery County School System who has shown exceptional gifts through student or community performances, exhibitions or publications. Past award winners include Abigail Elmore of Northwest High School and Webb Booth, Elizabeth Coleman, Autumn Crofton, Haedyn King and Hugh Poland with the Roxy School of the Arts.
The George Mabry Award:  A living Tennessee individual who has made a significant impact on arts and culture in Montgomery County through philanthropy, leadership or direct involvement or a Tennessee individual who has advanced arts and culture through innovative work in creating or supporting the arts in Montgomery County. (Nominations are not accepted in this category. A special committee of the Acuff Circle of Excellence Community Advisory Board selects the honoree.)  Past award winners include Olen Bryant, Anne Glass and Frank Lott.
The winners will be announced at the Ovation Awards ceremony in the spring, and Christopher Burawa, director of the Center of Excellence, said they are currently accepting nominations for the four categories, other than the George Mabry Award.
The nominations must be received in his office by 5:00pm, February 15th, 2013.
In order to nominate someone in one of the categories, you must submit a nomination letter, which should not exceed two double-spaced pages. The nomination should include a short biography of the individual or history of the organization.
For more information on the nomination process and the Ovation Awards, contact the Center at 931.221.7876.