APSU Sports: Austin Peay Men's Basketball

Bowling Green, KY – Western Kentucky used a 14-0 second-half run to break open a tight game and beat Austin Peay State University, 74-54, Tuesday night, in the first round of the Triple Crown Cancun Challenge at E.A. Diddle Arena.
The loss dropped APSU to 1-1 on the season while Western Kentucky improved to 1-1.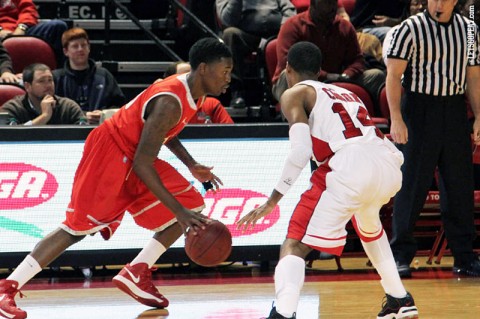 Trailing 49-43, Austin Peay watched Western Kentucky, the Govs came up empty on six straight trips, missing a pair of shots and committing four turnovers. The Hilltoppers cashed in with three two-point field goals, two free throws and two three pointers. All of a sudden the Governors trailed 63-43, with 8:34 remaining. It was a deficit from which the Governors could not recover.
APSU shot just 25.9 percent (7 of 27) in the second half while WKU was at 51.9 percent (51.7 percent).
The Governors showed great resiliency in the opening half as the Governors struggled attempting to contain WKU center Teeng Akol. Trailing 26-13, the Governors closed the half on a 20-7 run, led by freshman guard AJ Lynch, who hit a pair of threes in the final three minutes, including the game-tying bucket with three seconds remaining to send the two teams into intermission at 33 all.
Lynch led the way with 10 points in the half, the same amount that Teeng had. In fact, the freshman Lynch paced APSU with a team-high 15 points, including three three pointers. Another freshman, 6-8 Chris Horton, recorded his first double-double with 12 points and 10 rebounds.
Austin Peay shot just 32.8 percent (20 of 61) from the floor and also committed 18 turnovers.
Jamal Crook led WKU with 16 points while forward George Fant had a double-double with 15 points and 14 rebounds.
The Govs will return to action 1:00pm, Saturday with the second game of the Cancun Tourney, traveling to Chicago to face DePaul.
Box Score
Austin Peay vs WKU
11/13/12 7:00pm at Bowling Green, KY. (E.A. Diddle Arena)
Austin Peay 54
Total
3-point
Rebounds
##
Player
p
fgm-fga
fgm-fga
ftm-fta
off-def
tot
pf
tp
a
to
blk
stl
min

10

TRIGGS, Will

f

0-6

0-0

4-6

1-1

2

3

4

0

1

0

0

19

25

CAMPBELL, Anthony

f

1-4

1-3

0-0

0-2

2

0

3

1

1

0

0

21

05

HORTON, Chris

c

5-10

0-0

2-4

2-8

10

2

12

0

3

2

0

28

04

BETRAN, Travis

g

3-11

0-3

0-0

1-0

1

1

6

1

5

0

2

26

23

LYNCH, AJ

g

6-11

3-5

0-0

0-2

2

1

15

2

2

0

0

26

11

GREER, Thomas

–

0-0

0-0

0-0

0-0

0

1

0

0

0

0

1

11

15

FREEMAN, Chris

–

3-9

0-0

0-0

1-6

7

2

6

0

3

2

0

26

20

ARENTSEN, Corey

–

1-4

1-3

1-2

0-2

2

1

4

1

0

0

1

19

21

HERRING, Preston

–

1-1

0-0

0-0

0-0

0

0

2

0

0

0

0

2

22

LAWRENCE, Herdie

–

0-4

0-4

2-2

2-1

3

2

2

2

3

0

0

17

24

HARMS, Joe

–

0-0

0-0

0-0

0-0

0

0

0

0

0

0

0

1

33

HASSE, Matt

–

0-1

0-0

0-0

0-1

1

0

0

0

0

0

0

4

TM

TEAM

–

–

–

–

4-2

6

–

–

–

–

–

–

–

Totals…………..

–

20-61

5-18

9-14

11-25

36

13

54

7

18

4

4

200

32.8%

27.8%

64.3%

Team summary:
FG
3FG
FT
1st Half:

13-34

4-10

3-4

38.2%

40.0%

75.0%

2nd Half:

7-27

1-8

6-10

25.9%

12.5%

60.0%
WKU 74
Total
3-point
Rebounds
##
Player
p
fgm-fga
fgm-fga
ftm-fta
off-def
tot
pf
tp
a
to
blk
stl
min

44

Fant, George

f

7-14

0-0

1-2

4-10

14

2

15

1

2

4

0

33

22

Akol, Teeng

c

7-10

0-1

0-0

2-4

6

1

14

3

1

2

1

23

12

Harris, Brandon

g

2-6

2-6

2-2

1-4

5

2

8

0

2

0

1

27

14

Crook, Jamal

g

5-10

3-5

3-5

0-5

5

1

16

9

3

0

3

30

52

Price, T.J.

g

4-13

2-7

1-2

2-5

7

3

11

1

5

0

0

29

00

Anyigbo, Kene

–

0-1

0-0

0-0

0-0

0

1

0

0

1

0

0

8

01

Kaspar, Kevin

–

1-5

1-3

0-0

2-2

4

1

3

1

1

0

2

20

02

Alcantara, Eddie

–

0-0

0-0

0-0

1-0

1

0

0

0

0

0

0

1

10

Dickerson, Caden

–

0-4

0-3

3-4

1-0

1

2

3

2

0

0

0

15

13

Blade, Percy

–

0-0

0-0

0-0

0-0

0

0

0

0

0

0

0

1

15

Akamune, O'Karo

–

2-3

0-0

0-0

1-0

1

1

4

0

0

0

1

12

20

Rostov, Aleksejs

–

0-1

0-0

0-0

0-0

0

1

0

0

0

0

0

0+

24

Drane, Stephon

–

0-0

0-0

0-0

0-0

0

0

0

0

0

0

0

1

TM

TEAM

–

–

–

–

1-0

1

–

–

–

1

–

–

–

Totals…………..

–

28-67

8-25

10-15

15-30

45

15

74

17

16

6

8

200

41.8%

32.0%

66.7%

Team summary:
FG
3FG
FT
1st Half:

13-38

4-13

3-5

34.2%

30.8%

60.0%

2nd Half:

15-29

4-12

7-10

51.7%

33.3%

70.0%
| | | | | |
| --- | --- | --- | --- | --- |
| Score by Periods | 1st | 2nd | Total | |
| Austin Peay | 33 | 21 | 54 | Record: (1-1) |
| WKU | 33 | 41 | 74 | Record: (1-1) |
Officials: John Hampton, Rick Hartzell, Raymond Natili
Technical fouls: Austin Peay-TEAM. WKU-None.
Attendance: 4160