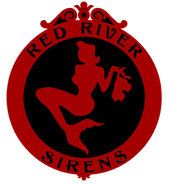 Clarksville, TN – Ever scream your lungs out to completely trash a song that your little sister had blasting from her bedroom?
Well here's your chance to put all of that "talent" to use! Clarksville Roller Derby's Red River Sirens are hosting their 2nd annual Scaryokie Karaoke fundraiser on Saturday, November 17th at Scooters Pub and Grill, 2458 Highway 41A Bypass, Clarksville. Doors open at 7:00pm, Karaoke begins at 8:00pm, and a $5.00 minimum donation is requested.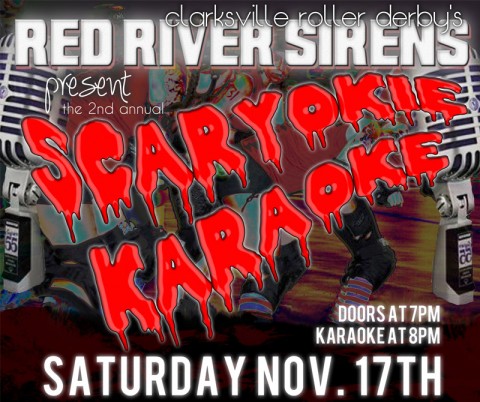 Come prepared to butcher a song of your choice on stage until the judges and crowd can't stand it any longer!!
All you need to do to win is Entertain — singing capability isn't required, just some thick skin, and almost whatever it takes to keep the judges and audience on your side. Costumes are not required, but encouraged.  Contestants are advised that they will be laughed at by the audience and subject to possible judge commentary. All in the name of entertainment, of course.
An award will be given for Worst in Show. There will also be special Siren-inspired drink specials, jello shots, and a 50/50 raffle.
This event is a fundraiser for the Red River Sirens, who are gearing up for their third season of roller derby.
About Clarksville Roller Derby League
Clarksville Roller Derby formed in 2010 as the first active roller derby league in Clarksville. Red River Sirens are the League's first team, and held their first season of competition in 2011. To qualify for the team, skaters are required to pass the minimum skills test established by the Women's Flat Track Derby Association (WFTDA).
In addition to team and individual athletic training, skaters hold positions on various committees to keep the all-volunteer organization running. The league is a non-profit organization, and operates under the guidelines of the Women's Flat Track Roller Derby Association (WFTDA) and is run completely by volunteers.
The team website is www.ClarksvilleRollerDerby.com. Red River Sirens can also be found at www.facebook.com/redriversirens.
About Roller Derby
Roller Derby is an American-made contact sport that originated in the early 1900s. The sport was highly popular in the 1970s when professional matches were televised and the sport shared a reputation for staged action. Today's game, which involves higher levels of strategy, is currently regaining popularity all over the country.
Teams are currently active in Nashville, Memphis and Knoxville. Roller Derby is experiencing a resurgence of popularity. Today's teams are all-female, self-organized, and feature athleticism and campy outfits. Men are welcome to participate as coaches, referees, announcers and in team support roles. The sport is governed by the rules of the Women's Flat Track Derby Association (WFTDA), which sets the rules and determines the baseline skills required of participants.
Visit www.wftda.com for more information.