Clarksville, TN –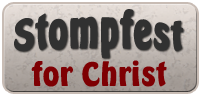 On Saturday, November 10th, Remnant of Faith Church sponsored their fall Stompfest for Christ at Clement Auditorium on Austin Peay State University.
"It's a chance for different churches in the community to come together and uplift the Lord," said church spokesperson Alphonse Prather. He described a Stompfest as "A family affair that is not just an event, it's a movement; it is a place where everyone who is young or young At heart can come out and watch as Step Teams, Praise Dancers, and a gospel comedian, comes out and strut their stuff before their community and God."
Host D. J. Pryor was as he identified himself, "the greatest host in the world!" He is a christian who does stand up, and depending on the venue he varies his act; "I can do clean comedy, or not; it depends on the arena," he said. "Tonight, people can expect the unexpected, as I never know what's going to happen. I never know what I'm going to do as the host, and it's my job to set the atmosphere; pretty much they follow my lead. It's going to be fun. The energy is going to be crazy from the start, and it only goes up from there; it keeps going up for the whole show,"  he said.
Pryor is quite entertaining to watch onstage, frequently reminding me of a young Eddie Murphy, although that's not his intent, but with his talent it is pretty much unavoidable. He invited the audience to like his new Facebook page. "I'm also launching my website tonight, right this second actually," he told me. "It's going to be really something." Pryor will be starting his first comedy tour this December.
"The Stompfest is a fun event where everyone can participate and get involved," Prather said. "We have groups of people, ranging in age from 5 years old to 60 years old participating."
Dance Performers during the evening included the Christ Swag Steppers; MRC Crunk Crew from Ministry of Reconciliation Church; Christ Choros from Faith Mission Ministries; Expressions Revealed from the Westgate Christian Center; Unity One from  Walmart Grove; Unified Faith from Christ the Healer church; Good Hope Anointed Young Ladies from Good Hope Baptist Church;  the G-Moc Worship Dancers from the Goodness & Mercy Outreach Center; Good Hope Anointed Young Men from the Good Hope Baptist Church; Crunk for Christ from the  Westgate Christian Center;  the Little Mexico & Latin Folklore, New Life; Women of Virtue from Deliverance Outreach Center; and Uninhibited Praise from St. Paul missionary Baptist Church.
Christ Driven, Dionne Jermia, and Joel provided musical entertainment during the event.
The funds raised at the event go to benefit Remnant of Faith Church's building fund, youth ministry, and the helping hands ministry, which helps to feed needy families and the homeless."
If you would like a copy of the program on DVD, contact the church at 931-542-6849; they are $10 each.
The church holds Stompfests in June and November each year.
Photo Gallery
Step Clinic
There will be a stepping clinic on Saturday, December 23, from 10 AM to 2 PM. If you're looking to start a step team at your church, school, organization; or if you just want to learn the art or sharpen your skills, contact Remnant of Faith Church at 931-542-6849.
The clinic is sponsored by Jazz-E Fox & the Hip-Hop Tots! School-aged children can enjoy clean, music, games, and apparel. www.JazzEFox.com
About Bill Larson
Sections
Arts and Leisure
Topics
Alphonse Prather, Austin Peay State University, Christ Choros, Christ Driven, Christ Swag Steppers, Christ the Healer Church, Clement Auditorium, Crunk for Christ, D.J. Pryor, Deliverance Outreach Center, Dionne Jermia, Eddie Murphy, Expressions Revealed, Faith Mission Ministries, G-Moc Worship Dancers, Good Hope Anointed Young Ladies, Good Hope Anointed Young Men, Good Hope Baptist Church, Goodness & Mercy Outreach Center, Jazz-E Fox & the Hip-Hop Tots, Joel, Little Mexico & Latin Folklore, Ministry of Reconciliation Church, MRC Crunk Crew, New Life, Remnant of Faith Church, St. Paul Missionary Baptist Church, Step Clinic, Stompfest, Stompfest For Christ, the Good Hope Baptist Church, Unified Faith, Uninhibited Praise, Unity One, Walmart Grove, Westgate Christian Center, Women of Virtue