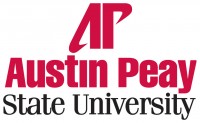 Clarksville, TN – In early August, when many students dread the approaching academic year, seven Austin Peay State University students eagerly jumpstarted their semester by traveling to Madison, WI, for the Mathematics Association of America's annual MathFest Conference.
Four of the students gave presentations, one student had a job interview with the National Security Agency and another student developed plans to found a chapter of the National Association of Women in Mathematics at APSU.
"Attending MathFest as an undergraduate student was such a wonderful experience," Stephanie Jessie, an APSU student, said. "I was able to not only observe what other students and mathematicians around the United States are doing but talk to potential employers and graduate schools."
Every year Dr. Ben Ntatin, APSU associate professor of mathematics, takes a group of math students to local and national conferences to expose them to the realities of the mathematics world. This practice is part of his teaching philosophy, which emphasizes getting students out of the classroom.
"Personally, it's my philosophy that you should hold the student's hand and take them to conferences and make them present," he said. "The idea is to make the students see what their peers at other universities do and expose them to professional mathematicians. The benefit is the students are challenged, and it places them in the broader perspective of what mathematics is outside the classroom."
Ntatin likes taking his students to MathFest every year because the Mathematics Association of America is the pre-eminent math organization in the country. Many of the students will become members of the association during their professional careers. But Wisconsin isn't that close, and flights for seven students can get expensive.
To pay for the trip, Ntatin applied for and received a Student Academic Success Initiative (SASI) grant from the University. The grant program, instituted by APSU President Tim Hall, seeks to encourage student engagement within the academic community and to foster faculty-student interactions outside of the classroom. Since 2008, more than $250,000 in SASI grants have been funded by President Hall.
For Ntatin, the money was well spent. That's because his students now believe more in their abilities as mathematicians.
"Students that presented in conferences, I bet you they walk on the tip of their toes around campus, with more confidence, with some pride," he said. "They're happy they're doing mathematics when they do that. It's a different scenario than just being in class."
The APSU students who attended MathFest include Jessie, Emarus Shay, Cory Medlin, Liliana Alvarez, Anne French, Megan Alvarez and Reneice Glasper.
For more information on the conference or these students, contact Ntatin at .