Exceptional Talent and Art from Middle Tennessee Students
Dickson, TN – The Tennessee Art Education Association (TAEA) and The Renaissance Center have partnered again to present the 5th Annual Middle Tennessee Regional Student Art Exhibition, featuring exceptional artwork created by middle and high school students from Middle Tennessee.
The exhibit is on display at The Renaissance Center through January 11th, 2013. A free Reception and Awards Ceremony is scheduled for Saturday, December 1st, 4:00pm–7:00pm.
Over 500 entries were received from students at 27 Middle Tennessee schools and home schools of which 88 works were selected for the exhibition representing 22 schools and 11 counties (see complete list below).
"The student art exhibition provides an excellent competitive arena for young artists to display their talents and be honored for their accomplishments in a professional center for the arts environment," states Bob Kucher, Senior Director of Fine Arts for the center.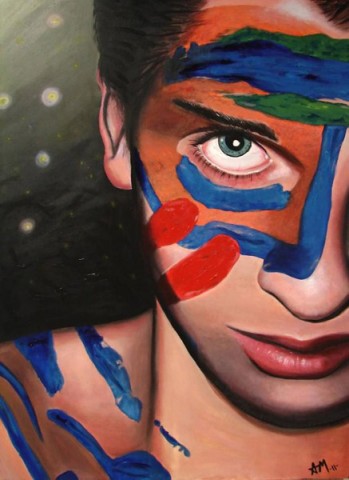 This year's categories include: Ceramics, Drawing, Mixed Media, Painting, Computer Graphics, Sculpture, Photography, Printmaking, and Video/DVD Production.
The exhibition is a juried show open to students in grades 6-12, attending public, private or home schools in Middle Tennessee. The Best of Show Purchase Award is a $500.00 cash prize as well as scholarship opportunities, and the artwork becomes part of The Renaissance Center's Permanent Collection.
Additional awards have been made possible by the Tennessee Art Education Association, including $50.00 prizes for each category. Gift certificates and coupons for the artists will also be supplied by Plaza Art Store
The MTRSAE exhibit, which is free to the public, is on display in the Visual Arts Gallery, East Gallery and North Gallery at The Renaissance Center through January 11th, 2013. Whitman's Painting in Dickson has provided wall preparation and painting services for all three gallery areas.
The Jurors for the 2012 MTRSAE are:
Justin Makemson, Professor of Art Education at Belmont University
Cliff Tierney, Professor of Art at Lipscomb University
Linda Hall Anderson, Retired Visual Arts Curriculum Coordinator and High School Art Teacher
Quote from Linda Hall Anderson:
"What a pleasure it was serving as a judge and having the opportunity to review the endeavors of Middle Tennessee's talented visual art students. It was a challenge selecting excellence from so many good applicants who have expressed themselves using both their imaginations and skills. The Renaissance Center is to be commended for once again providing a showcase for the exhibit which encourages art students to do their best, share their gifts, and develop skills in creativity and craftsmanship which will serve them well throughout their lives."
The 2011 Best of Show Award Winner was Kaley Davault for her Mixed Media piece, "The World Through A Child's Eyes" (12th grade, Station Camp High School, Instructor Blake Long). Total scholarships offered for the 2011 4th Annual Middle Tennessee Regional Student Art Exhibition was over $200,000 and included scholarships from colleges and art institutions across the country. Scholarships offered for the 2010 exhibit winners was over $108,000.
2012 MTRSAE STATS & INFO: Approximately 500 entries received from 27 schools and several home schools and community art programs. 88 works selected for the exhibition; representing 80 students from art programs in 22 schools and 11 counties.
22 Schools
Brentwood Academy
Brentwood High School
Clarksville Academy
Clarksville High School
Dickson County High School
Goodpasture Christian School
H.G. Hill Middle School
Hillwood High School
Home School
Middle College High School
Montgomery Bell Academy
Montgomery Central High School
Nashville Christian School
Saint Cecilia Academy
Saint Henry School
Saint Rose of Lima
Station Camp High School
Summit High School
The Renaissance Center
The Webb School
Watkins Community Education Program
Wilson Central High School
11 Counties
Bedford
Cheatham
Davidson
Dickson
Humphreys
Macon
Montgomery
Rutherford
Sumner
Williamson
Wilson
The Tennessee Art Education Association (TAEA) is a state-wide organization dedicated to "advance quality visual arts education through advocacy, leadership, professional development, and to promote a cohesive professional community."
TAEA provides professional development opportunities for the support and the growth of members as effective educators, leaders, and advocates for art education. Their website is: www.artedtn.org. TAEA is part of the National Art Education Association (NAEA), the "leading professional membership organization exclusively for visual arts educators."
Members include elementary, middle and high school visual arts educators, college and university professors, researchers and scholars, teaching artists, administrators and supervisors, and art museum educators, as well as more than 45,000 students who are members of the National Art Honor Society or are university students preparing to be art educators. Their website is: www.arteducators.org.
About The Renaissance Center
The Renaissance Center is a state-of-the-art facility for fine arts, performing arts, media production, technology and education located about 35 miles from downtown Nashville in Dickson, Tennessee. The Renaissance Center includes several art galleries, the Gaslight Dinner Theatre, the Renaissance Players Community Theatre, the Tennessee Artisan Market and the CyberSphere Digital Theater. Support for the arts programs are from the Tennessee Arts Commission and the National Endowment for the Arts.