Written by Sgt. Shanika Futrell
159th Combat Aviation Brigade Public Affairs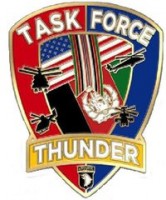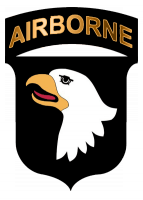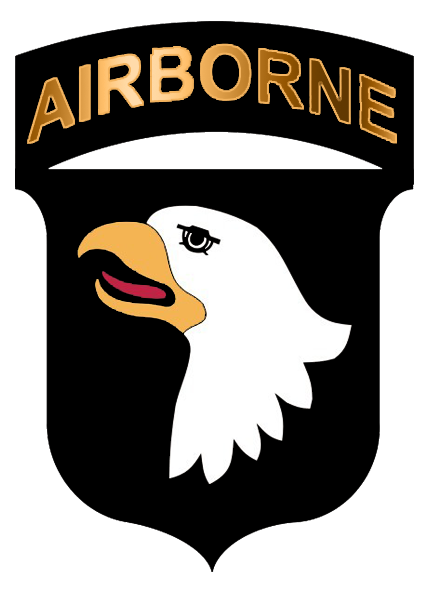 Fort Campbell, KY – Soldiers do many things while deployed — clear buildings, capture terrorist, and even destroy caches with drugs and weapons, in order to protect the local nationals and their fellow comrades from harm.
Many times when clearing a building, the enemy will fight back. Whether it is with weapons or hand-to-hand combat, soldiers need to be prepared to protect themselves and others.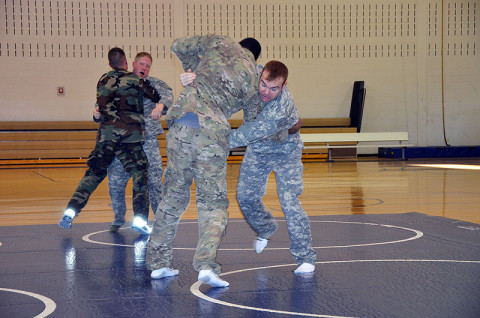 The Army offers a course called the Modern Army Combatives Program, which has come a long way throughout history to perfect maneuvers needed to subdue or escape the enemy.
" The objective of the Modern Army Combatives Program is to enhance combat readiness by instilling the confidence and fighting skills that are only gained through engagement with an opponent in a combat situation," according to Army Regulation 350-1, Army Training and Leader Development, 1-25 Modern Army Combatives Program training. "Combatives training is a fundamental building block for preparing Soldiers for current and future operations and must be an integral part of every Soldier's life."
In 1995, Lt. Col. Stan McCrystal, the commander of the 2nd Ranger Battalion, ordered a reinvigoration of martial arts training… There was the feeling among the men that the techniques would not work and that it was a waste of valuable training time, so a committee was formed, headed by Staff Sgt. Matt Larsen, to develop a program that was more effective.
The first step was to examine successful programs from around the world… After looking at many different systems, the Rangers sent several men to train at the Gracie Jiu-Jitsu Academy in Torrance, CA. The Brazilian jiu-jitsu fit almost every aspect of the military's needs perfectly… Rangers would start with the basics of Brazilian jiu-jitsu ground fighting, and progress into the throws and takedowns of judo and wrestling, and the strikes of boxing and muay thai. Rangers who were trained in this new system spread throughout the Army, the system spread with them.
The program continues to grow as Soldiers continuously prepare themselves for possible hand-to-hand combat in any environment.
Soldiers from the 7th Squadron, 17th Cavalry Regiment, trained hard to become Level 1 certified after completing the MACP training at Fort Campbell, KY, December 14th, which is designed to teach basic hand-to-hand fighting techniques.
"You never want to be in a situation where you need to save yourself or your battle buddies and you can't," said Spc. Dashawn Russell, an MACP Level 1 participant with the Troop E, 7th Sqdrn., 17th Cav. Rgt. "I have always wanted to be able to learn all of the levels of combatives, and I think everyone should at least be level 1 certified to be able to protect themselves from harm."
During the 40 hour level 1 course, soldiers learned fighting positions, chokes, pummeling, how to escape from a mount, shrimp escape, arm bars and more.
"It is important that you know what to do when your opponent is attacking or about to attack you," said Russell. "In this class you will learn more about technique and once you master it, you can take down the biggest (assailant)."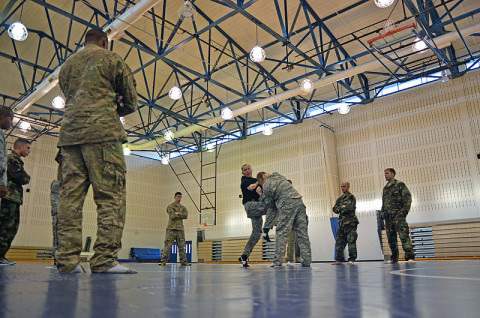 There are four certification levels in the MACP. Each certification builds on previous levels and teaches more advanced techniques. Upon completion of the level 2 course, which is 80 hours and teaches 57 fighting skills, the soldier becomes an instructor and can help with level 1 certification courses.
"I am level four certified," said Sgt. 1st Class Christopher Fulbright, the MACP training instructor with the 7th Sqdrn., 17th Cav. Rgt. "In order to get level three and four certified, soldiers must (attend intense training at) Fort Benning, GA, to get (qualified) and these classes are not easy. That is why it is important that we teach them the proper way to execute moves and explain to them why the moves are done a specific way."
Before the instructors teach the fighting skills and allow students to practice, they wear them out by having them conduct the stretches and drills learned the previous days of training.
"The past few days have been fairly easy," said Russell. "The majority of the things we have learned are ground work tactics, which are easy to learn and easy to maneuver."
In order to ensure as much safety as possible for the class, the instructors used composite risk management and experience to identify potential safety problems. They had three instructors there during the course to watch for unsafe conditions and correct them as needed.
"We walk around as we let the students work on the different techniques and moves we show them to ensure they are exercising and maintaining good partner etiquette," said Fulbright. "We do not want anyone hurt and unable to finish the class because we weren't ensuring their safety. Safety is important in any training we conduct and we want to keep that to show other Soldiers they have nothing to be afraid of when they come to the next class held in January."
Fulbright and his fellow instructors Chief Warrant Officer 2 Matthew Brant and Chief Warrant Officer 2 Curtis Childree said they are dedicated to holding as many classes as needed to get Soldiers qualified throughout the 159th Combat Aviation Brigade.
"As long as there are soldiers willing to learn we continue to schedule classes," said Fulbright. "Chief Childree was the person who set this whole combatives training program up, and I think it was an excellent idea because Soldiers have wanted to do this for some time."
"I jumped at the chance," said Russell. "My goal is to become level four certified. The instructors are great influences, and I believe if you are trying to learn and improve your career, you start with this class."