Clarksville, TN – Burt Elementary teacher Kenzi Neuman is being recognized for the initiative she took in entering Burt Elementary School in a state lottery which will allow fifth graders to visit the Tennessee State Museum on Feb. 15 and view the actual Emancipation Proclamation and Thirteenth amendment, which will be on display there for only 72 hours. An Abraham Lincoln impersonator also will visit the students at their school February 4 to impart more knowledge about these historical documents.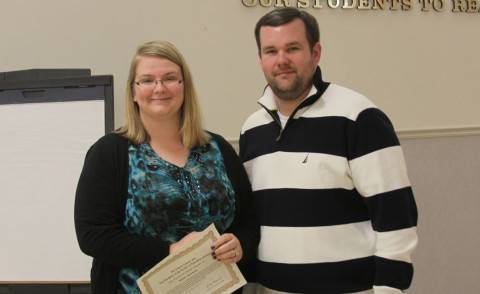 Two CMCSS middle schools took home top awards in the Western Tennessee First Lego League Pilot Championship held in Memphis this month.
Northeast Middle School's Electric Eagles Lego Robotics Gold Team won the Champion's Award, its Blue Team won first place in Programming, and Rossview Middle School's Hawktronics Teams won first in the Research competition.
Twenty-six teams from around the region gathered at the University of Memphis for the event, which was sponsored by the Tennessee Society of Professional Engineers and the University of Memphis. All seven CMCSS middle schools took part in the competition. This year's theme was "Senior Solutions" and the students had to build a robot that ran missions based on the theme as well as research and propose a solution to a problem senior citizens face every day.
By virtue of their winning the Champion's Award, the Electric Eagles have been invited to the LEGOLand Open Invitational Challenge to be held May 17-19, 2013, at LEGOLand California. Kopp added: "We are now preparing to attend that event by improving our team in research and robot design and programming; and, also, begin serious fundraising to get the team to California."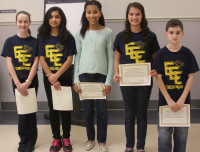 NEMS Electric Eagles Gold team members are: Chris Barnes, Jessica Clark, Bailyn Dupont, Brennan Hildebrand, Rennison Kelley, Andrea Mann, Jordan McNair, Scott Moore, Alex Myers, Thomas Pelkey and Alicia Veltri. Blue team members are: Michael 'Nick' Bouder, Cleveland Brookheart, Navarone Dupont, Abby Dwyer, Marcos Martinez, Malia Medley, CoriMyers, Jeal Patel, Iris Penate, Ava Ploeckelman, Adam Riley, Lauren Veltri and Kyle Watts.
Rossview Middle School Hawktronics Team 1 members are: Ben Zirkle, Alex Greenley, Ashley Rands, Briana McMurchie, Joseph Wilson, Strati Young and Connor Haas. Team 2 members are: Ben Edger, Devon Richey, Amanda Greenley, Cameron Lundgren, Caleb Keoho, Vinnie Guiarino, Matthew Spitzley, Divya Sriram and Savannah Tackleberry.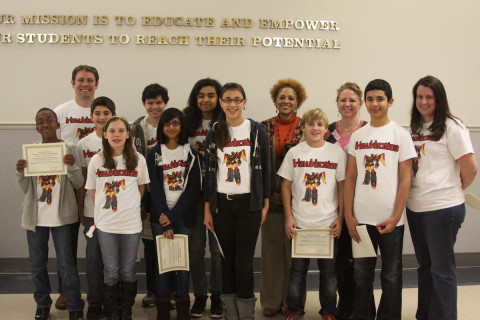 Lisa Kemmer, attendance clerk at Northeast Elementary, is receiving recognition for her selection as the cover photographer for the 2013 Arts and Heritage Cultural Calendar. She had had her work showcased in several juried events.
Project Search, a CMCSS Program for Exceptional Children led by Souette Quinn and Maurice Howard, received the Annual Award of Appreciation by Progressive Directions, Inc. – a community agency that serves young adults with disabilities. CMCSS has partnered with Progressive Directions this year through Project Search and provided job coaches to the transition programs. The new program provides high school seniors with disabilities the opportunity to complete their senior year out of the schools and in a local job site. Students learn first hand the social skills and vocational skills as they complete 10-week rotations between assigned departments. This year, the Montgomery County government office at Veteran's Plaza has embraced the program and is the host site for Project Search.