APSU Sports: Austin Peay Men's Basketball

Clarksville, TN – Austin Peay State University's final minute rally came up short as it fell to rival Murray State, 71-68, Saturday night in Ohio Valley Conference basketball action.

The loss dropped APSU to 5-13 overall, 1-3 in OVC play, while Murray State improved to 12-4 overall and 3-1 in the OVC. It was the Govs' fifth loss by three points or less this season.

Trailing by seven, 65-58, the Governors made a late charge. After a missed Stacy Wilson free throw APSU junior guard Travis Betran launched a long that cut the deficit to four with 52 seconds left.

APSU forced a turnover on the inbounds pass but Betran's three came up short. The Govs fouled All-America guard Isaiah Canaan, who sank one of two free throws, making it a five-point game.

But Betran this time banked in a three pointer with 36 seconds remaining again to make it a two-point game, 66-64, with 43 seconds left.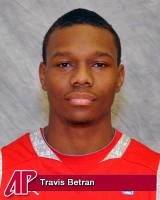 Again Canaan was fouled and he made both this time, pushing the lead back out to four. Betran, however, fall away three pointer came up short this time and the Racers' Ed Daniel immediately was fouled. He made both and it was a six-point game, 70-64, with 19 seconds left.
Miraculously, with Stacy Wilson hanging all over him, Betran nailed another three-another bank shot-with 11 seconds left and went to the free-throw line with a chance to cut the deficit to two. He made it, cutting the deficit to, 70-68.
With APSU out of timeouts, head coach Dave Loos looked on astonishingly when his Governors failed to foul immediately. Finally, Racers freshman Jeffrey Moss was fouled with 4.8 seconds left. The lefty made the first but missed the second.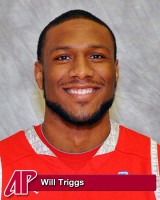 But the Govs could not move the ball quickly enough into the front court to even attempt a shot as APSU incurred another frustrating defeat.
The back-and-forth game saw the lead change 13 times and it was nine more. The Racers took the lead for good at the 4:56 mark after a Daniel dunk of a Canaan miss.
Canaan led Murray State with 26 points, knocking down four three pointers. Daniel recorded his season's ninth double-double with 21 points and 13 rebounds.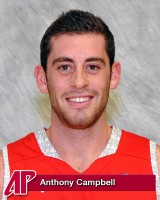 Betran led all scorers with 27 points-his fourth straight 20-point outing and eighth this season. Ranked 21st in the nation for three pointers made per game at 2.94, connected on 5-of-11 three-point attempts.
Triggs finished with 12 points while Anthony Campbell had 10.
For the fourth straight OVC game the Governors were out-rebounded, this time by a 40-31 margin. In fact, the smallest player on the court, 5-10 walk-on point guard Jeremy Purvis finished tied with Anthony Campbell for the team lead with five.
Austin Peay is back on the court Thursday, January 17th to face the SIU Edwardsville Cougars home at the Dunn Center. Tip off is at 7:00pm.
Photo Gallery
Box Score
Murray State vs Austin Peay
1/12/13 7:35pm at Clarksville, TN (Dunn Center)
Murray State 71
Total
3-point
Rebounds
##
Player
p
fgm-fga
fgm-fga
ftm-fta
off-def
tot
pf
tp
a
to
blk
stl
min

01

WILSON, Stacy

f

2-9

1-3

1-2

1-1

2

5

6

0

6

0

1

28

02

DANIEL, Ed

f

6-7

0-0

9-13

4-9

13

2

21

0

4

2

0

30

13

GARRETT, Brandon

f

3-4

0-0

0-0

0-7

7

3

6

3

3

0

1

31

03

CANAAN, Isaiah

g

8-16

4-9

6-7

0-4

4

2

26

4

1

0

2

37

23

FIELDS, Dexter

g

0-4

0-3

0-1

0-2

2

1

0

3

1

0

0

30

04

MUSHATT, Latreze

–

0-1

0-0

0-0

1-0

1

0

0

0

0

0

0

4

12

RAMBO, Tyler

–

1-1

0-0

0-0

0-1

1

1

2

0

0

0

0

6

14

MCCREE, Erik

–

2-4

0-0

0-0

1-3

4

0

4

0

1

0

1

13

31

MOSS, Jeffery

–

1-5

1-5

3-4

0-2

2

1

6

0

1

0

2

20

35

HENDERSON, Zay

–

0-0

0-0

0-0

0-0

0

1

0

0

0

0

0

1

TM

TEAM

–

–

–

–

0-4

4

–

–

–

–

–

–

–

Totals…………..

–

23-51

6-20

19-27

7-33

40

16

71

10

17

2

7

200

45.1%

30.0%

70.4%

Team summary:
FG
3FG
FT
1st Half:

12-29

4-12

3-4

41.4%

33.3%

75.0%

2nd Half:

11-22

2-8

16-23

50.0%

25.0%

69.6%
Austin Peay 68
Total
3-point
Rebounds
##
Player
p
fgm-fga
fgm-fga
ftm-fta
off-def
tot
pf
tp
a
to
blk
stl
min

10

TRIGGS, Will

f

6-11

0-0

0-0

1-1

2

1

12

0

4

0

2

30

25

CAMPBELL, Anthony

f

3-11

1-6

3-4

1-4

5

2

10

1

2

0

2

31

05

HORTON, Chris

c

2-3

0-0

1-2

1-3

4

5

5

1

2

3

0

28

04

BETRAN, Travis

g

8-19

5-11

6-8

0-4

4

0

27

5

1

0

3

39

12

PURVIS, Jeremy

g

2-7

2-5

0-0

0-5

5

3

6

3

1

0

1

27

15

FREEMAN, Chris

–

0-1

0-0

0-0

0-1

1

0

0

0

0

0

0

5

20

ARENTSEN, Cory

–

2-4

2-4

0-0

0-4

4

3

6

0

1

0

0

14

22

LAWRENCE, Herdie

–

0-0

0-0

0-0

0-0

0

1

0

0

0

0

0

1

23

LYNCH, AJ

–

1-3

0-0

0-0

0-0

0

1

2

0

1

0

1

13

33

HASSE, Matt

–

0-0

0-0

0-0

2-1

3

5

0

3

1

0

0

12

TM

TEAM

–

–

–

–

0-3

3

–

–

–

–

–

–

–

Totals…………..

–

24-59

10-26

10-14

5-26

31

21

68

13

13

3

9

200

40.7%

38.5%

71.4%

Team summary:
FG
3FG
FT
1st Half:

11-29

3-10

4-5

37.9%

30.0%

80.0%

2nd Half:

13-30

7-16

6-9

43.3%

43.8%

66.7%
| | | | | |
| --- | --- | --- | --- | --- |
| Score by Periods | 1st | 2nd | Total | |
| Murray State | 31 | 40 | 71 | Record: (12-4 (3-1)) |
| Austin Peay | 29 | 39 | 68 | Record: (5-13 (1-3)) |
Officials: Barry Mathis(R), Jon Campbell, Bart Lenox
Technical fouls: Murray State-None. Austin Peay-None.
Attendance: 4718
Copies in a Flash Player of the Game: Travis Betran
Sections
Sports
Topics
Anthony Campbell, APSU, APSU Athletics, APSU Basketball, APSU Men's Basketball, APSU Sports, Austin Peay State University, Clarksville TN, Dave Loos, Ed Daniel, Governors, Govs, Isaiah Canaan, Jeremy Purvis, Murray State, Ohio Valley Conference, OVC, Racers, Stacy Wilson, Travis Betran, Will Triggs