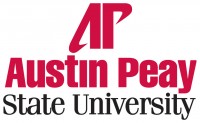 Clarksville, TN – Although tea is now inextricably associated with British culture, early 18th-century writers struggled over the meaning of this foreign export, and their anxieties about tea manifest larger anxieties about what it means to be a British subject.
That's the focus an Austin Peay State University faculty member will discuss as part of the next Provost Lecture Series at APSU.
Dr. Mercy Cannon, associate professor of English, will present at 3:00pm, Friday, February 8th in the Morgan University Center, Room 303. All sessions of the Provost Lecture Series are free and open to the public.
The title of her presentation is "Civilization and Scandal: Taking Tea in the Early Eighteenth Century."
"What emerges from many of the texts is an image of the early tea table as a dangerous, uncolonized space, presided over by gossiping women," Cannon said. "Herein lies the strangeness of the tea table. It represents British civilization in its commercial and economic triumphs, yet becomes a site of deeply uncivil behavior.
The tea literature suggests that anxieties about the beverage manifest larger anxieties about what it means to be a British subject."
Sessions of the Provost Lecture Series also can be viewed in real time via online streaming . The sessions also are recorded and can be viewed later on APSU's iTunes public site .
Other sessions in the Provost Lecture Series also are planned for the academic year. All sessions are from 3:00pm-4:30pm in the MUC, Room 303. To see a schedule of upcoming speakers, visit www.apsu.edu/academic-affairs/provost-series.
The Provost Lecture Series seeks to foster a spirit of intellectual and scholarly inquiry among faculty, staff and students. The program will be used as a platform for APSU faculty members who are recent recipients of provost summer grants, who have been awarded faculty development leaves and who have engaged in recent scholarly inquiry during sabbatical leaves.
For more information about the Provost Lecture Series, call Dr. Brian Johnson, assistant vice president of academic affairs at APSU, at 931.221.7992 or email him at .