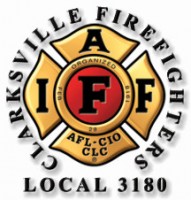 Clarksville, TN – On Tuesday, the Clarksville Firefighters Association  (CFFA) Local 3180 presented a $500.00 check to the Two Rivers Chapter of the American Red Cross.
The Red Cross plans to use the Clarksville Firefighter's donation to continue to provide disaster relief services in Montgomery County.
The Two Rivers Chapter serves 7 counties across middle and West Tennessee has already provided assistance to 77 families in Montgomery County this year.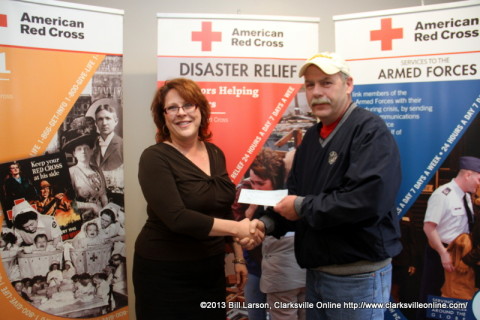 The donation is part of the money raised from the Clarksville Firefighters Association's biannual fundraising concerts.  They hold two concerts each year in the spring and fall. The fall concert is always features country music, the spring concert brings back the best of the 50's and 60's.
This year's spring concert will be held on April 20th and will feature Beatles Tribute band 1964, the Tribute. The band was formed in 1984, and has performed over 2900 shows.  They have also released their own albums and music videos. Rolling Stone magazine has called 1964, "The best Beatles tribute ever. Tickets are $26.00 and can be ordered online at www.iafflocal3180.com. Once at the web site click on the CFFA Concert Series link.