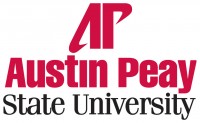 Clarksville, TN – An Austin Peay State University biology professor, who has gained international recognition with his research in the last few years, will be the next presenter of the Provost Lecture Series at APSU.
Dr. Sergei Markov, associate professor of biology, will present at 3:00pm, Thursday, March 7th in the Morgan University Center, Room 303. All sessions of the Provost Lecture Series are free and open to the public.
The title of his presentation is "Growing algae in photobioreactors for practical purposes."
Microalgae (microscopic algae) are photosynthetic microorganisms similar to plants. Like plants, microalgae use sunlight, but they grow fast and can build their mass within hours. Microalgae can be used as food, animal feed, medicine and fertilizer.
Ongoing rise of oil prices and environmental pollution has recently brought worldwide attention to microalgae, Markov said.
"The reality is that microalgae could be used to generate a number of environmentally friendly fuels, including oil (biodiesel), hydrogen (H2) and ethanol," he said. "Algae can grow in ponds, but it creates several problems, such as contamination by other microbes and by zooplankton, vulnerability to temperature fluctuations, inefficiency in cell production. The need to overcome these limits and to promote microalgal biotechnology to the level of bacterial fermentation led to the development of photobioreactors that provides the most efficient utilization of the solar energy, and monitors culture purity."
Markov started his research on practical applications of microscopic algae more than 30 years ago when his was a student at Lomonosov Moscow State University in Russia. Shortly after receiving his Ph.D. in 1987, he worked in collaboration with the Russian company NPO Biotecknika, which has developed the technologies for processing algal biomass including chlorella and spirulina all the way to biologically active compounds.
In 1991, he went to England to study H2 production by algae in photobioreactors at King's College London, University of London. Later in 1995, he was invited to the U.S. to join the National Renewable Energy Laboratory (NREL) in Golden, CO, where he worked for several years on H2 production from algae (green algae and cyanobacteria) in photobioreactors.
His algae-for-biofuel research was supported by grants from National Science Foundation, the Environmental Protection Agency, International Science Foundation, Global Partners, the U.S. Department of Energy and NASA-WV.  He is the author of more than 120 publications, including research papers, chapters in books and encyclopedias and newspaper articles on algae and biofuels.
He was a 2010 winner of the scientific competition "Generation of H2 from algae" conducted by the International Scientific Journal for Alternative Energy and Ecology. In 2011, he received the prestigious APSU Hawkins Award for his scholarly activities. His research on algae and biofuels has earned an international recognition and profiled by media outlets worldwide.
Sessions of the Provost Lecture Series also can be viewed in real time via online streaming . The sessions also are recorded and can be viewed later on APSU's iTunes public site .
Other sessions in the Provost Lecture Series also are planned for the academic year. All sessions are from 3:00pm-4:30pm in the MUC, Room 303. To see a schedule of upcoming speakers, visit http://www.apsu.edu/academic-affairs/provost-series.
The Provost Lecture Series seeks to foster a spirit of intellectual and scholarly inquiry among faculty, staff and students. The program will be used as a platform for APSU faculty members who are recent recipients of provost summer grants, who have been awarded faculty development leaves and who have engaged in recent scholarly inquiry during sabbatical leaves.
For more information about the Provost Lecture Series, call Dr. Brian Johnson, assistant vice president of academic affairs at APSU, at 931.221.7992 or email him at .