Clarksville, TN – Hilltop Super Market will hold their 18th Annual Easter Egg Hunt on Saturday, March 30th, 2013. Activities begin at 11:00am and the easter egg hunt will begin at 2:00pm sharp.
There will be inflatables, face painting, cupcake decorating, festivities, games, fun and prizes for children of all ages.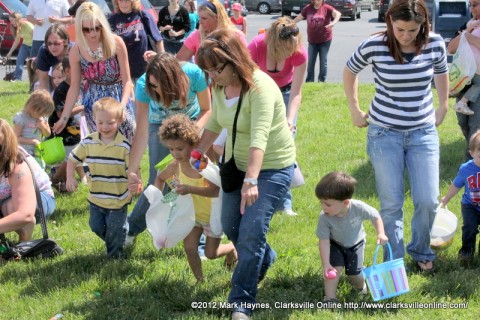 The fields will be broken down into four groups; the up to 4 year olds, 5 to 6 year olds, 7 to 9 year olds and the 10 to 12 year old group. There will be over 6,000 eggs to be hunted. Among the eggs, there will be over 200 plastic eggs that contain tickets that can be turned in for a prize.
There will be tickets for Grand Prize tickets in some of the plastic eggs. Some of the grand prizes last year included a basketball goal, MP3 player, Razor scooters, small scooters, and CD players.
The sponsors for this year's event are Hilltop Supermarket, B & M Market, Cumberland Bank and Trust, Grandmama's House of Preschool and Child Care, Coca-Cola, Mark Davis Trucking, U Jumpin' Folks, Satelite Electronics, Movies N' More, Joey's Fireworks, Jimmy Miller Construction, Dad's Rootbeer and RC Cola.
So bring your family and kids out Saturday, March 30th to Hilltop Supermarket for the easter egg hunt. There will lots to do and fun for everyone!
About Hilltop Supermarket
Hilltop Supermarket is located at 400 Highway 149, Clarksville TN. From Clarksville, you would take Hwy 48/13 south across the river, turn right on highway 149 and Hilltop Supermarket is located on the left at the top of the hill next to Freds. Hilltop serves the grocery needs of the southern Montgomery county area.
Visit their website at: www.hilltopsupermarket.com.