APSU Sports: Austin Peay Women's Tennis

Paducah, KY – Austin Peay State University women's tennis team was eliminated in the first round of the Ohio Valley Conference Women's Tennis Tournament, Friday, falling 4-0 to Eastern Illinois.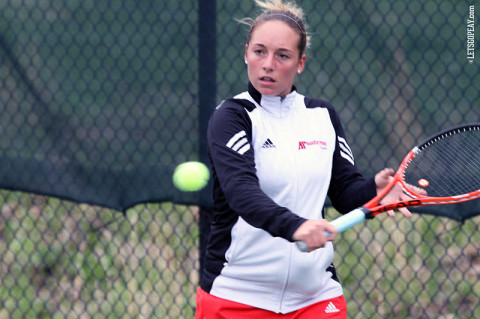 Austin Peay concludes head coach Ross Brown's first season at the helm at 9-13, with a 5-5 OVC mark. Eastern Illinois moves to 13-5 on the season and will face top-seeded Eastern Kentucky, 10:00am, Saturday.
As has been the norm this season, the doubles point told the tale of this match. Despite an 8-3 victory at No. 2 for Alison Carre and Vanessa Tavares – the season's 10th for the sophomore duo – the Lady Govs dropped the doubles point to fall behind 1-0 entering singles play.
"The doubles point is really important," Brown said. "We had some game points earlier on that would've made a big difference. I'll keep working for next year on how we can make our doubles a bigger threat."
The Lady Govs came undone during singles play, winning just three games in the numbers four, five and six matches. Tavares was the only Lady Gov to win multiple games, falling 6-1, 6-1 to Ali Foster at No. 4 singles.
"The top three were very winnable matches, which the doubles would've helped us," Brown said. "Vanessa matches up well with her opponent, but Foster played some incredible tennis. We just weren't in the hunt at No. 5 and No. 6 today."
With no athletes scheduled to leave the program, the future is bright for Brown's charges. He hopes this experience will harden the Lady Govs for next season.
"We've got to keep improving," Brown said. "We've got to finish points off. These girls worked hard and had a good year; I'm very proud of them. We'll keep working and get to the next level next year."
Box Score
Eastern Illinois 4, Austin Peay 0
April 19th, 2013 at Paducah, KY (Heflin Tennis Center)
Singles competition
1. PRISNER, Janelle (EIUW) vs. CARRE, Alison (APSUW) unfinished
2. BOULBAHAIEM, Sephora (EIUW) vs. DI SALVO, Ornella (APSUW) unfinished
3. WHITLEY, Merritt (EIUW) vs. CORNEA, Andra (APSUW) unfinished
4. FOSTER, Ali (EIUW) def. TAVARES, Vanessa (APSUW) 6-1, 6-1
5. KIM, Jennifer (EIUW) def. KARAC, Jovana (APSUW) 6-0, 6-1
6. LAIRD, Kristen (EIUW) def. COVINGTON, Julie (APSUW) 6-0, 6-0
Doubles competition
1. PRISNER, Janelle/WHITLEY, Merritt (EIUW) def. DI SALVO, Ornella/CORNEA, Andra (APSUW) 8-6
2. CARRE, Alison/TAVARES, Vanessa (APSUW) def. BOULBAHAIEM, Sephora/KIMBROUGH, Hannah (EIUW) 8-3
3. FOSTER, Ali/LAIRD, Kristen (EIUW) def. KARAC, Jovana/KUBEK, Mary Theresa (APSUW) 8-1
Match Notes
Austin Peay 9-13
Eastern Illinois 13-5
Order of finish: Doubles (3,2,1); Singles (6,5,4)
T-2:20